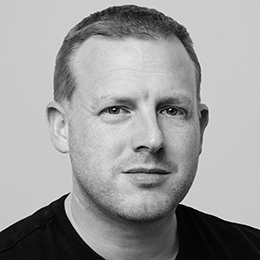 Jonathan Dalton, IDSA
Chief Executive Officer & Co-founder
THRIVE
As the CEO and co-founder of THRIVE, an IDSA Ambassador—Jonathan Dalton, IDSA, helps clients achieve business objectives and redefine markets through user-centered products and strategic brand design. He's an expert at helping organizations see what people will want in the future and helping development teams manage the change to meet those needs.
Dalton speaks regularly around the globe on people-centered consumer research and innovation and brings a rare balance of design sensibility and strategic thinking to development programs—deciphering user needs and desires and connecting brand with product strategy.
He is a former International Design Excellence Award winner who graduated with first-class honors in design for industry from the Northumbria University in England.
---
PRE-CONFERENCE SESSION | 9am–12pm, March 28, Boston Children's Hospital | Unlocking New Value through Healthcare Experience Mapping
The consumerization of healthcare is in full swing with consumers rapidly emerging as the fastest growing payer in the industry. They are many. And they are powerful. But they are also confused and frustrated, creating one of the major issues in healthcare today. Organizations that skillfully create and consistently deliver the whole experience for a procedure, service or care journey can reap huge rewards including enhanced patient satisfaction, increased revenue and improved levels of staff retention.
Jonathan Dalton, IDSA, and Trent Kahute, IDSA, of THRIVE will lead a workshop to give healthcare and design professionals responsible for the delivery of the overall patient experience—the practical tools and methods needed to identify unmet needs, frame opportunities for new value creation and ultimately deliver compelling experiences for patients and other care givers.
Workshop Format: This interactive workshop introduces THRIVE's system of experience mapping for healthcare services and medical procedures. Participants will be introduced to the tools and analytical techniques of contextual inquiry, experience mapping, and opportunity identification. They will then apply them to a simulated birth at Boston Children's simulation lab, observing the stages of Active Labor, Transition Labor, Pushing, Birth, Delivery of the Placenta and early Recovery. The final activity will be analyzing the overall experience as a journey from a single or multi-stakeholder perspective, uncovering pain points, needs, and moments of truth, and identifying opportunities, interventions and strategies for value creation.
You will learn how to:
Capture the behaviors, flows and the emotions of people in a medical context over the course of a defined experience or procedure.

Visually map the interactions between a patient, physicians and caregivers in each procedure.

Identify and contextualize the unmet needs of patients, physicians and other caregivers.

Note gaps in the patient experience and use them as a basis for identifying new opportunities.

Focus on solving the right problems and opportunities that generate the greatest value by taking an outside-in view that cuts across functional silos.
Who should attend?
Anyone who is responsible for, or involved in, the development of medical devices and the delivery of the patient experience in the healthcare sector. This includes professionals who are currently serving as (or aspire to be):
Medical device designers & engineers

Healthcare service designers

Human factors engineers

Design researchers & innovation strategists

R&D managers & engineers

Customer experience officers (CXOs)

---

IDSA Medical Conference 2018 chair Bryce Rutter discusses the In-Situ Workshops