Wondering what to get that special someone in your life? We believe beautifully designed products make the best presents, so let us help you get a head start on your holiday shopping with our IDEA 2014 holiday gift guide! Check out the...
Each year, IDSA saves the best of the best and announces those winners live at the International Conference. Congratulations to the IDEA 2014 special award winners! Best in Show: Square Stand People's Choice: DELTAIR - Self Contained...
Tesla Model S Takes IDEA 2013 Top Honors With the introduction of the Tesla Roadster in 2008, the company became known as an innovator. But CEO Elon Musk was committed to exceeding this reputation. He set out to design not only the best...
The Henry Ford is an amazing place as all the IDEA jurors will attest to. Every year the jury meets at The Henry Ford to decide on the winners of the annual IDEA competition and we hear from them how inspiring the place is. IDSA and The...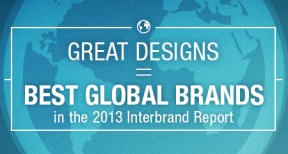 Learn more about the International Design Excellence Awards 2014 here! IDEA Winners Take Center Stage in List of 2013 Best Global Brands
Learn more about the International Design Excellence Awards 2014 here! Pivot is a student design that received an IDEA win this year for its innovative solution for helping human trafficking victims.
Have you ever wanted to shoot a movie but don't have the money? Well, now you can. Thanks to the Blackmagic Cinema Camera, which costs less than $3,000 and brings high end film making technology to the mass market. Recently, Arby's shot a...
LittleBits are the little big innovation to keep an eye out for! In addition to winning the IDEA 2013 Gold, littleBits have won over 18 awards. Recently, littleBits designed a 4ft. kinetic sculpture that was displayed in the MoMA...
Tesla isn't the only IDEA contestant walking away with another IDEA award.