Each year, IDSA celebrates with the U.S. design community on March 5 in recognition of National Industrial Design Day. First entered into the U.S. Congressional Record in 2015 by U.S. Rep. Gerald E. Connolly, National Industrial Design Day declares that industrial designers "improve our lives in every way and are worthy of our recognition." That day in 2015 marked the 50th anniversary of the founding of IDSA, which is headquartered in Herndon, VA, part of Connolly's 11th Congressional District just outside Washington, D.C.
In the United States, product design and related services generate billions of dollars in sales and the number of U.S.-awarded design patents has reached an all-time high.
 "The economic impact of this industry helps fuel our nation's economy." —U.S. Rep. Gerald E. Connolly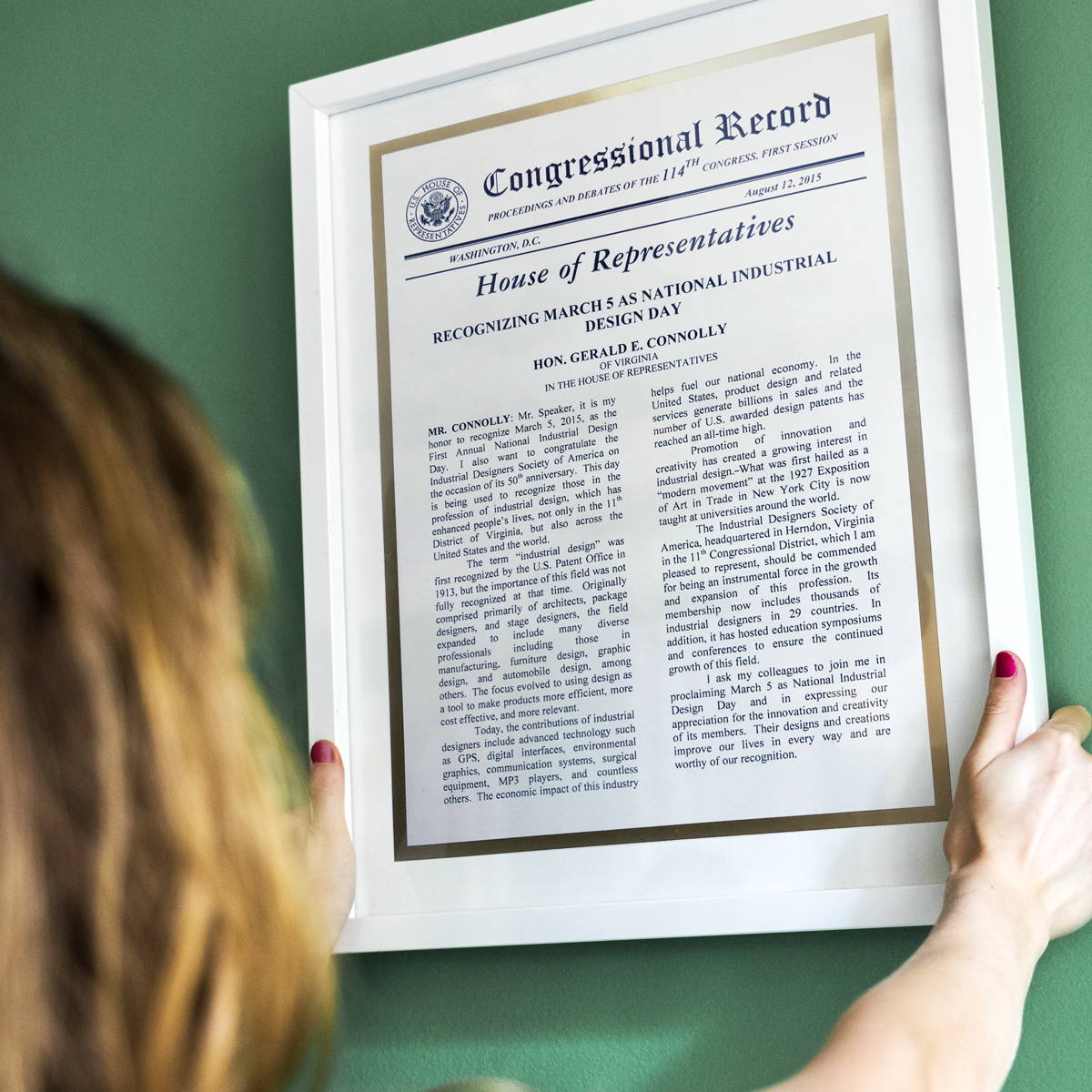 Industrial designers envision the products that fill homes, offices, schools, roads and hospitals. They serve diverse fields ranging from environment to entertainment, social impact to service, and communication to recreation. They work in tandem with engineering, manufacturing, marketing and management leaders to create countless innovations used every day, such as computers, smart phones, furniture, appliances, toys and medical devices, to name a few.
National Industrial Design Day also is an opportunity for professionals to connect with the younger generation through outreach efforts, and to educate students and parents about choosing a career in industrial design.
"This day is a moment for us to reflect on the countless ways industrial designers positively influence our daily activities and improve the way we all live, work and play. It's extremely important for us to celebrate the people who bring ideas and products to life through industrial design." —Chris Livaudais, IDSA Executive Director
IDSA encourages industrial designers to share their inspiration, dedication, hard work and successes on this day each year. Our social media channels light up with stories from around the world accompanied by the hashtag, #IndustrialDesignDay.
Valuing the Art of Industrial Design
A comprehensive 2013 report by the National Endowment of the Arts explores industrial design, both as an occupation and as an industry tied to U.S. manufacturing and other sectors. Drawing on data from the U.S. Bureau of Labor Statistics and the U.S. Census Bureau, the report highlights the number of working industrial designers and their earnings, the industries employing the greatest numbers of designers, and their geographic concentration in western and mid-western states. The report also uses data published by the U.S. Patent and Trademark Office to show the wide variety of products incorporating industrial design, as well as the leading companies awarded design patents. Notably, the report presents an analysis of patent data that reveals industrial designers as prolific inventors.