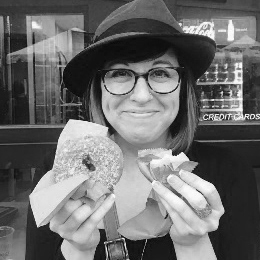 Jessica Suarez
Senior Design Manager, Design and Construction
Cinnabon
Jessica Suarez is currently the senior design manager for Cinnabon. With her experience in branding and front-of-house design with McDonalds, she has been able to apply her knowledge and experience to help revitalize the 30-year-old Cinnabon brand.
With a year's worth of concepts, and help from a brand architecture group, she developed a new bakery design that is tempting the nation—one sweet cinnamon roll at a time. These locations not only feature a new design but new products that are helping expand the Cinnabon menu. As Suarez says, team work makes the dreams work!
---
The Winning Card
Choosing from what life deals you to create the best design experience.