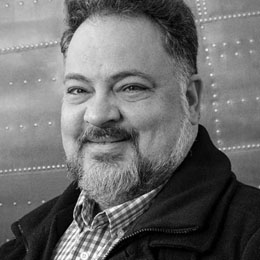 Greg Smiley, IDSA
Industrial Design Manager | The Raymond Corperation 
Chair, IDSA Syracuse Chapter | 2020-2021
Greg Smiley, IDSA, is one of the longest serving chairs of an IDSA chapter! He was elected to the role in 2007 and has been volunteering in that capacity ever since. Born and raised in New York's Hudson Valley, Smiley is a 1987 ID graduate of the University of Bridgeport and completed additional course work in human factors at the University of Michigan. He initially became involved with IDSA as a college student, then again at the professional level in the early 1990s. "IDSA has opened doors and provided opportunities personally and professionally that wouldn't have been possible otherwise, not to mention some amazing experiences over the years as well," says Smiley.
Now, he's the industrial design manager for The Raymond Corporation, a warehouse electric lift truck manufacturer in the Toyota Material Handling Group (TMHG). As TMHG's lead designer in North America, Smiley coordinates global integration, oversight and advocacy for both the Toyota and Raymond branded products (US designed), and represents ID interests in global development projects throughout the United States, Canada, Japan, Italy and Sweden. He also worked as program manager for a four-wheel counterbalance line from Italy.
 
Prior to Raymond, Smiley worked in various freelance, corporate and consultant roles, primarily as a product designer in the consumer electronics industry. He also held roles ranging from marketing brand management to user interface specification and exhibit design. He holds more than 20 material handling patents and two "Glide Key" patents for text input on mobile phones and PDAs.
Smiley's interests include photography, music composition, pattern development and various vehicle projects including aircraft, auto and watercraft designs (including a patent for Quick-Fold kayaks).