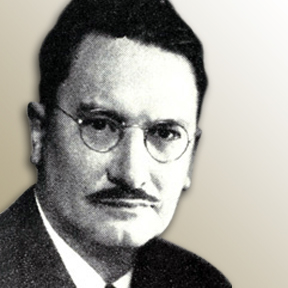 Egmont Arens, FIDSA
(1888-1966)
Inducted into the Academy of Fellows: 1965
US package and industrial designer. He was sent by his family to New Mexico to recover from tuberculosis, and began a career as sports editor for the Albuquerque Tribune-Citizen in 1916. The following year he moved to NY and operated the Washington Square Bookstore where he established the Flying Stag Press, printing magazines.
His interest in art led him to editorship of Creative Arts magazine, Playboy (no, not that one—but the one first devoted to modern art), and Vanity Fair, a leading style and fashion magazine. In 1927 he was working on the design and manufacture of a line of lamps including a chrome-plated spherical table lamp.
By 1929 he became advertising director for Calkins & Holden, where he started and headed an industrial styling department until it was discontinued in 1936. He wrote Consumer Engineering with Roy Shelton in 1932, and designed the Higgens ink bottle, A&P packages including 8 o'clock coffee and the Phillip Morris trademark.
For the Hobart Manufacturing Company, he designed their classic Kitchen Aid Model "K" stand mixer (1937) and "Streamliner" meat slicer (1941). In 1939, he designed the "Good Life" main exhibit in the Consumers Building.
In 1944 he was one of the 15 practitioners who established the Society of Industrial Designers, and in 1952, was one of the 12 who established the Package Designers Council.