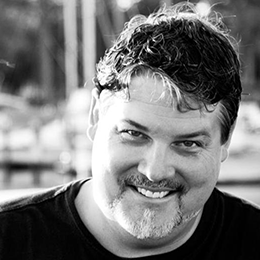 Sean Hägen, IDSA, HFES
Principal, Director of Research & Synthesis
BlackHägen Design  
Sean Hägen, IDSA, HFES, earned a BS in product design from The Ohio State University's Industrial Design program, with an emphasis on human factors engineering, design research and design methodology. He has more than 20 years of research and product development experience in industries ranging from luxury vehicles and mission critical, ruggedized electronics to medical devices and user interfaces.
Since founding BlackHägen Design, Inc. (BH) in 1995, he has led design research and usability design projects in institutional and home environments across 18 countries. His current focus at BH is in the management of the user research and insight translation phases of product development—including contextual inquiry, usability testing, user-centric innovation, establishing user requirements and user interface design.
Hägen has published articles on usability research and design as well as contributed to domestic and international standards for usability development processes. He is currently an active member of the AAMI Human Factors Committee as a contributing author to the revision of ANSI/HE75, TIR 50 and 59. He served as chair of IDSA's Medical Special Interest Section from 2010 to 2017 and chair of IDSA's Medical Design Conference 2014. Currently, he serves as section director on IDSA's Board of Directors.
---
Contextual Inquiry in the Clinical Environment
Sean Hägen, IDSA, HFES, leads a comprehensive, overview course on how to plan, execute and analyze contextual Inquiry (CI) methodology in the clinical environment. The US Food and Drug Administration (FDA) and International Electrotechnical Commission (IEC) have recognized the inherent value of CI as an integral part of developing medical devices, so this methodology is a key component during the generative concept phase and feasibility phase of a product. Beyond the overview of the process presented in a classroom, participants will be able to apply their techniques in a high fidelity simulated operating room where actors are performing a surgery. The class will divide into groups to take turns applying newly learned skills in the OR, then debrief on what they observed. The surrogate clinicians are scripted to portray certain use errors so learners should have discovered patterns of behavior analogous to a real-life site visit in a hospital. Experience:
What is CI and why do we need to do it?
What is the difference between CI and ethnography?
Process Overview
Team Roles
Data Collection Tools
A checklist of what to do and when
Recruiting, screening and access
Administrative documentation
Data analysis & coding, findings and translation
Deliverables & mapping, insights & synthesis
Communication of results & conclusion
This course is designed for industrial designers, human factors engineers, user experience designers, user researchers, interaction designers, marketing, product design teams and anyone interested in understanding end-users.
---
IDSA Medical Conference 2018 chair Bryce Rutter discusses the In-Situ Workshops