A Call for Entries to New Exhibit in Miami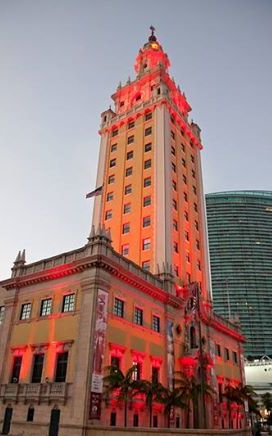 IDSA's Women in Design Section is promoting a call for entries to a new exhibit set to open in November 2016 at MDC Museum of Art + Design's Freedom Tower in Miami. The deadline for submissions to DESIGN BY WOMEN I pathways of creativity is Dec. 31, 2015.
The exhibit is being curated by Marianne Russell of arango and the Arango Design Foundation in Miami. "It is an important subject," she says. "The number of women who attend design schools has increased, but once they graduate many 'disappear,' while their male counterparts often go on to successful careers. When looking at manufacturers' design roster, the vast majority of names are male, with just very few female. The goal of the exhibition is to inspire a new generation of women, and the public, while sending a message to the manufacturing community to take notice of the viewpoint and talent women bring to industrial design."
Submissions to DESIGN BY WOMEN can be made to the following categories:
PAST: Provide historical reference by honoring the women who came before such as Eileen Gray, Charlotte Perriand, Andree Putman, Nanna Ditzel, Gae Aulenti, Florence Knoll Bassett, H/IDSA, and others.
PRESENT: Focus mainly on successful, independent, industrial designers working today including: Patricia Urquiola (E) Inga Sempe' (F) Cecilie Manz (DK) Felicia Ferrone (USA) Rebecca Finell (USA) Silvia Guarnieri ( I ) Ineke Hans (NL)  FRONT (S) Ionna Vautrin (F), Louise Campbell (DK) Helen Kontouris (AUS) Nao Tamura (Japan), etc.
FUTURE: Highlight young talent emerging from design schools around the globe in the last few years.
Russell says the exhibition's subject is industrial design; it will not include jewelry, textiles, fashion and graphic design. She also says if the independent industrial designer who submits a project works in a collaboration/partnership, the other designers also must be female.
Submissions must include:
Biography / CV (including year and place of birth and education).
Portrait.
Complete contact information (including studio address for pick-up and delivery).
Brief statement of your approach to your work and inspirational sources.
Have you been inspired by other women designers? If so, by whom?
One sentence or quote related to your design philosophy.
"This timely exhibition is long overdue!" declares Russell, who adds that opening week may grow to include workshops and panel discussions, since many designers have expressed interest, but no plans have been made yet.
Please send questions to arango@arango-design.com. Russell suggests uploading large file entries to WeTransfer.
IDSA's Women in Design Section is chaired by Nancy Perkins, FIDSA and vice chaired by Ti Chang, IDSA.