Four IDSA student members won top prizes in the International Housewares Association's 27th annual Student Design Competition, and four more IDSA student members received honorable mentions. Two IDSA members also served on the Competition jury.
The Competition challenges college students to redesign a current housewares product to meet the needs of the future or to create a concept for a new product. This year, the winning design concepts help protect vulnerable populations and address the environmental impact of personal care products. 
The two first-place winners received a $3,000 cash prize, and the top six finishers were set to receive an all-expense paid trip to Chicago, IL for The Inspired Home Show, IHA's Global Home + Housewares Market, March 14-17, 2020. Unfortunately, the Show was canceled due to COVID-19 (coronavirus) concerns. 
Jesse Palma, S/IDSA, a Purdue University graduate from Munster, IN living in Long Island City, NY, was one of two first place winners for his Relieve Delivery System for Topical Therapy. Said Palma, "I sought to tackle a complex challenge and it feels validating to know that my solution could positively impact millions of people. This award will help set the foundation for my career by giving me a newfound confidence, along with the opportunity to build my network with designers from across the nation." Palma has just been hired as an in-house developer for AVANADE, a division of Accenture, after a summer internship there.
Sanae Tanaka Wilson (not pictured), an Art Center College of Design junior, also won first place for her SurviBear Disaster Preparedness Kit for Infants.
Sy Hyin Wong, S/IDSA, a San Jose State University senior from Malaysia, is a co-second-place winner for her design of the Electric Flower Cutter. 
Antoinette Louw, S/IDSA, a University of Houston senior from Johannesburg, South Africa, is a co-second-place winner for her Ruf Protection Vest for Small Dogs. 
Lillian Gluck, S/IDSA, a Georgia Institute of Technology senior who was born in Wisconsin, studied abroad in Australia and now lives in Atlanta, was one of two third-place winners for her design of Clearly Waste Reducing Container for Personal Care Products.
The other third-place winner (not pictured) is Megan Piunti, a Milwaukee Institute of Art & Design senior from Grosse Isle, MI, for her Heel At-Home Care System for Injured Dogs.
---
First-Place Winners Inspired by Personal Experiences
First-place winner Palma suffers from eczema and was teased in school. A friend with psoriasis also had has many social problems. This led Palma to design Relieve (pictured below), which solves problems with topical ointment application, patient-doctor interaction and patient self-confidence in managing treatment for these skin conditions. A customized ointment tube fits into the pen applicator which dispenses the proper dosage, reducing waste and mess. Tubes are delivered to the home as needed by an online pharmacy subscription. A wireless charging system allows the user to integrate the device into daily life, building healthy habits and self-assurance for young patients.
According to competition judge Elizabeth Reuter, an industrial designer with Thermos, Schaumburg, IL, and a winner in 2010, "Jesse did a fantastic job of contextualizing the issue and showing how current products failed to account for user behaviors and perception of their own treatment. His insightful identification of the importance of establishing correct behavioral habits in younger, newly diagnosed patients was a logical lead-in to the design decisions he made for this target audience. The design itself was sleek and well thought out, even down to replenishment cycles, RX support and branding."
Wilson says she drew her inspiration from the massive earthquake that hit her hometown of Kobe, Japan, when she was eight years old. An emergency kit for parents of infants, SurviBear (pictured below) contains a three-day supply of baby needs. Worn as a backpack, it allows parents to hold the infant securely during an evacuation. When opened, it can act as a clean surface for diaper changing and feeding, and as a bed. A subscription service replenishes and updates the food and diapers as the child grows; unused supplies can be returned and reused.
"The SurviBear presentation set the bar high. The concept was well-thought-out and each phase was innovative and extremely detailed," said competition judge Robert Giacolo, new product development program manager, Transcendia, Franklin Park, IL, and a winner in 1995. "Sanae saw a problem that was not being addressed and created a solution that could go to market with little to no changes. For a student to have this vision and such a detailed concept from start to finish is beyond impressive."
Altogether, there were 265 entries from 29 schools in the U.S., Canada and India. Vicki Matranga, H/IDSA, IHA's design programs coordinator and manager of the Student Design Competition, said, "IHA's program has become known as the gold standard for college-level competitions. Many U.S. professors—and an increasing number internationally—assign the program annually to industrial design students because it is a real-world exercise and every entry receives feedback from two industry professionals. Students must identify user needs and opportunity spaces in the marketplace, research competitive available products, test models with users and consider production issues." 
---
Second and Third-Place Winners
Second-place awards of $2,000 each went to IDSA student members Wong and Louw.
Wong's battery-powered Electric Flower Cutter (pictured below) protects hands from painful repetitive motions caused by using scissors and pruners, allowing aging florist enthusiasts to continue their flower-arranging hobby. A convenient clip locks the device to the edge of the work surface. The user adjusts the tape measure to determine the length of the flower stem to be cut. A push button-controlled action can cut stems and strip thorns. Blades can be sharpened or replaced. 
Louw's Ruf (pictured below) protects a small dog in its vital areas—neck, back and stomach—and prevents serious injury from a dog attack. The multi-layered vest is constructed of materials that block teeth from penetrating; its spikes deter attackers and make jaw contact more difficult. A mesh pouch contains a bitter-flavored liquid that repels the attacker when pierced and encourages it to release the victim. The handle on the vest top assists the owner to quickly lift the small dog from danger.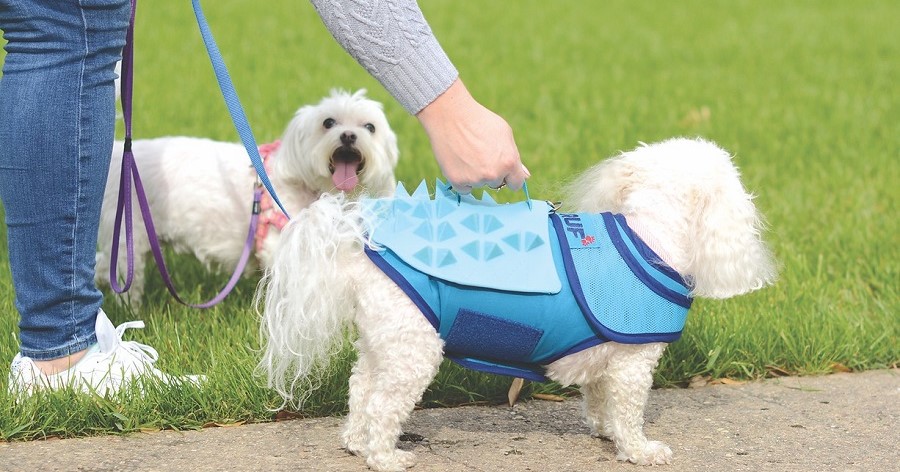 Third-place awards of $1,000 each went to Gluck, S/IDSA and Piunti.
Gluck's Clearly design (pictured below) offers a sustainable alternative to single-use personal care bottles. It reduces plastic packaging waste and the environmental and financials costs of shipping water-heavy products. The system forecasts changes in beauty product formulation away from liquids to concentrated gels. Internal components diffuse and mix the concentrates. Clearly offers convenience in shopping, storage and use, while it also allows consumers to switch brands and reuse the same bottles.
Piunti's Heel is a care system that limits mobility for dogs recovering from injury or surgery. The versatile lightweight crate can be used as a pen/barrier or for transport and it blends in with modern home décor. More comfortable for the dog than a standard crate, in its closed position the enclosure provides better visibility for dog and user. Heel's zip-open walls allow the caregiver to administer medication more comfortably. It can be produced in varied sizes.  
---
Eight Honorable Mentions 
Each honorable mention award recipient also received a $250 cash award.
Madelyn Bauer, S/IDSA, Cleveland Institute of Art, senior, Rise Home Fitness
Alison Benz, S/IDSA, University of Kansas, senior, Home Aer—Air Purifier
Dylan Brockhaus, S/IDSA, University of Kansas, senior, KOVA Smart Opioid Dispenser
Nicholas Koch, S/IDSA, Western Michigan University, junior, Redé Makeup Brush Cleaner + Travel Case 
Emery Burkhalter, University of Washington, junior, Perco Cold Brew Iced Coffee Maker
Jane Kassabian, University of Notre Dame, senior, TPAK Camping Hygiene and Waste Disposal
Lily Liu, University of Washington junior, SQUISHI Exercise Toy for Juvenile Arthritis
Taylor Patrick Stoiber, University of Wisconsin–Stout, senior, Fiberr Upcycled Textile Waste Furniture
 
---
Jury Includes Two IDSA Members and Five Previous Winners
This year's winners were chosen by a respected jury of 14, including designers at consumer products companies, design consultants, two educators and five former winners. Altogether, judges spent hundreds of volunteer hours reviewing the submissions, which consisted of written materials, sketches, engineering drawings and photos.
In addition to Giacolo and Reuter, the jury includes:
Jennifer Astwood, IDSA, associate professor of industrial design, University of Wisconsin–Stout, Menomonie, WI
Chris Cunningham, IDSA, global design director, The Pampered Chef, Addison, IL
Ann-Marie Conrado, professor of industrial design, University of Notre Dame, South Bend, IN 
2010 winner Teddy Lu, creative director, VEO, Chicago
Andreas Bell, president, TEAMS Design, Chicago
Alfredo Carreno, principal industrial designer, Newell Brands, Kalamazoo, MI
2015 winner Evan Cincotta, industrial designer, Casabella Bradshaw Home, New York
2002 winner Lisa Heim-Yoo, design lead, Nu-Way Industries, Inc., Des Plaines, IL
Min Kim, design manager, global product design, PepsiCo, New York
Dave Sellke, Ideation Studio Inc., Chicago
Dave Starr, Brooks Gray, Leawood, KS
Patrick Walraven, industrial designer, Hamilton Beach Brands, Glen Allen, VA
---
27 Years of Exceptional Student Design
This is the 27th year that winning design students have been honored by the International Housewares Association for its annual Show, expanding awareness of careers in industrial design among students and highlighting the impact of design on the $394.3 billion global housewares industry. Winning projects are selected for their innovation, understanding of production and marketing principles, and quality of entry materials. Since the Competition began in 1993, nearly 6,000 college students have entered, and each has come away with an educational experience that the design profession recognizes as unique.