Latest IDSA Women in Design Event Features New #IDSAIDEA Jury Chair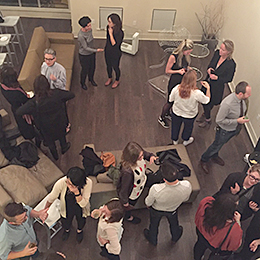 "It was such a great, intimate event and I left feeling so invigorated about design and our ID women community," says Grace Lee, IDSA, of the IDSA Women in Design Fireside Chat with Cameron Campbell, IDSA.
Attendee Angie Kim agrees. "I really enjoyed the community that came together.... Cameron Campbell is an inspirational woman with a strong and uplifting voice. The evening was a gathering of both women and men who came together to talk about the relevance of making connections to bridge audiences and live with purpose."
Campbell, the new chair of IDSA's 2016 International Design Excellence Awards (IDEA), had a conversation with Ti Chang, IDSA, vice chair of IDSA's Women in Design Section and co-founder/VP of Design, CRAVE at the event held Nov. 14, 2015 in a San Francisco home.
Campbell recently joined Proef as chief intangibles and strategy officer. "Working in any career as a woman is difficult enough. In design, as women, we have the ability to bring diversity in listening, thinking and solving to any of the programs on which we are working—and with that we need to keep our voices strong in this industry."
Campbell says she is empowered personally whenever she has the opportunity to discuss design with other women. "I recognize something new through every conversation. I grow emotionally. I am inspired by the great women in design yesterday and today who remind me to stay connected and real—from Lina Bo Bardi, Florence Knoll, Alexandra 'Ray' Eames and Lella Vignelli to (IDSA Board of Directors Education VP) Ayse Birsel, Hella Jongerius, Patricia Urquiola and Jeanne Gang. I want all of us to feel we can carry on this amazing legacy."
Chang says she wanted to hold a special event that expresses her gratitude for this "awesome community of women in design. Cameron has been a particularly inspiring figure whose design ethos transcends all boundaries and as importantly, she believes in giving back to the design community."