Showcase is an Uplifting Experience for IDSA Student Members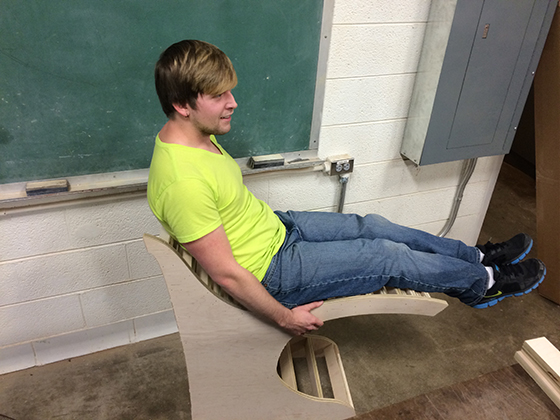 On May 1, 2015, the works of several members of Appalachian State University's IDSA Student Chapter will be among the projects featured in the Design Elevated Senior ID Showcase in Boone, NC.
Organizer Chris Brewer says a wide range of projects, from furniture to electronics to humanitarian projects, will be on display. That includes a pair of video game glasses, a helmet for avalanche rescue and a backpack that turns into a tent. Brewer tells IDSA he designed a laminate, two-part chair called Encompass, inspired by Appalachian storytelling, for a recent contest that tasked entrants with creating "a sense of amazement."
Brewer sees industrial design as the result of different skills used together to create and present projects. "We have to do market research and we have to come up with names for businesses and stuff for our projects. We're not engineers but we still have to sort through the mechanical things with each project," Brewer explains. "For us, you just kind of have to know a lot about everything to be able to make it happen."
The works of IDSA Student Chapter members Jessica Wolf, Cameron Locklar, Madelyn Ruck and John Walters also will be on display. Their chapter advisor is Associate Professor Don Corey.