November is National Native American Heritage Month: a time for listening and learning, and to celebrate Native peoples, past and present, not just this month but every day.
We encourage you to read this Unif-ID series on Instagram spotlighting Indigenous designers, run by Lindsay Malatesta, creator of the Unif-ID online community. Among the designers featured are Brian Skeet, IDSA, leader on IDSA's Diversity, Equity, and Inclusion Council, and Brittany Gene, a freelance industrial designer and recent graduate from Arizona State University.
We reached out to Brittany and had the honor of learning more about her—and what she wishes more people knew about Native culture and design (below). To see more of Brittany's work, visit brittanygene.com. 
Pictured: Brittany graduating from ASU in 2021 (Brittany's Instagram: @_shes_thunderstorms)
---
Tell us about your heritage. How has this shaped you into the designer you are today?
I am Diné (Navajo) and I am from Indian Wells, Arizona. 
I think my background has much to do with my work and motivation as a designer. For Dine people, our families emphasize the importance of community and taking care of each other. With that in mind, I went to college and studied Nutrition and Biochemistry so I could work in healthcare. Thinking that I would return home to take care of my community in that way.
However, I found that there were so many barriers with policies and procedures that really made me feel limited in how I could help people. Throughout this time, and throughout my life, I've had a tremendous network of Native designers and makers behind me, keeping me tied to design and reminding me that design has always been a tool for survival, communication, and teaching. My grandmother is a master weaver and she always told us that if we learned to weave we would always have a way to survive. That teaching really sticks with me to this day. The idea that skills and knowledge passed down by family and/or community is what has helped me progress in design and the field of industrial design. Now, as an industrial designer, I am always looking for opportunities to work with Native people and organizations to help them progress. This idea of cycles is a huge factor in how I use my work and how I approach designing for groups of people rather than just myself.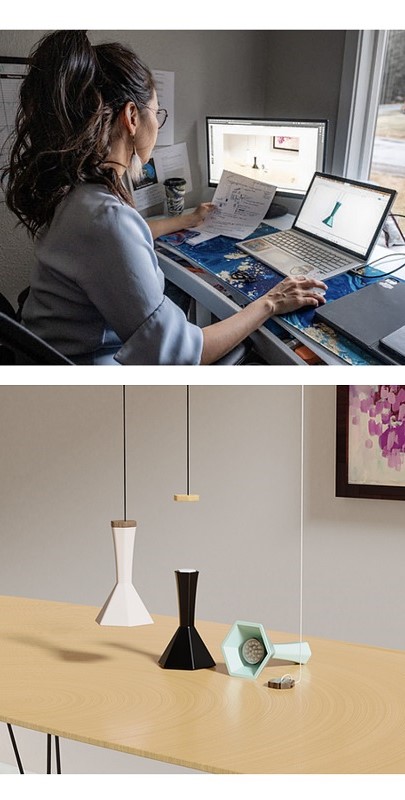 Above: Glimpses into the design process of Pharos, a silicone based track lighting system that can be removed from its charging base to act like a flash light. Pharos was designed to make lighting more accessible than traditionally fixed lighting fixtures. (brittanygene.com/pharos-lighting-product-design)
What do you wish more people knew about Indigenous cultures and design?
I have two big wishes.
I wish more people would think of Indigenous people as modern people. Culture and design live within people. If people assume that Native people don't exist, then they assume our culture and design work don't presently exist as well. There are so many times I've taken a course or have sat in on design lectures and professionals talk about how Native cultures and peoples are all gone. They talk about us in past tense and assume they are experts on our culture because they have studied it but have not interacted with it nor have they lived our experiences. 
I wish people understood that Native people are inherently designers. Often people limit the idea of Indigenous design to "Native American Arts & Crafts." I also find that people romanticize the ideas of "living off the land," "biomimicry'' and "sustainability" but look down on Native people who design sustainable lifestyles on Native reservations. I think if people actually listened and actively tried to learn about Native people they would see there is so much more to culture and how it manifests itself into brilliant design practices.
For designers looking to get involved and learn more about Indigenous design and communities, how do you recommend they start?
My best recommendation is to seek out ways to interact with and support the community. Look up Indigenous sponsored events, partake in community events, buy from and hire Native artists/designers, and do more listening than explaining. If that is not possible, follow Native designers on social media, look up Native-hosted podcasts, and read books written by Native people. Unfortunately, people have attempted to erase Native culture, so our past written history is limited, but recently there has been an emergence with preserving cultural knowledge, including design, and there are a lot of resources out there.