Community is a foundational element of the IDSA experience. We already support a robust network of Professional Chapters across the country to help you connect one-on-one to your local community. While these personal relationships have proven invaluable over the years, we all know that so much of our life now happens online. For this reason, the IDSA team has been hard at work re-envisioning the way you digitally connect with other IDSA members—locally and beyond.
Our overarching goal with this new platform is to enable two key benefits for IDSA membership: 
Enhance transactions such as renewing membership or purchasing a conference registration.
Provide a simple, yet meaningful, way for connecting with other members who live in your area or who share similar interests.
---
Logging In
All existing IDSA membership accounts have automatically been transferred over to the new system. To protect your privacy, the only piece we didn't move was your password. In order to log in, you'll need to reset your password.
CLICK HERE to get started and enter the email address associated with your IDSA account. We'll send you an email with instructions for resetting a new password and you'll be ready to go!
If you've already reset your password, you may login here.
---
Your Profile
One of the first things you'll notice is an all-new personal profile page which is the starting point of the online IDSA experience. From here you can access Communities, Events, INNOVATION magazine and much more.
Click the Update Profile button on the side navigation menu to add details to your personal profile. Be sure to include your social media links and professional biography to help other members connect with you and learn about your background. Finally, complete your profile by uploading a headshot and cover image to bring your page to life.
---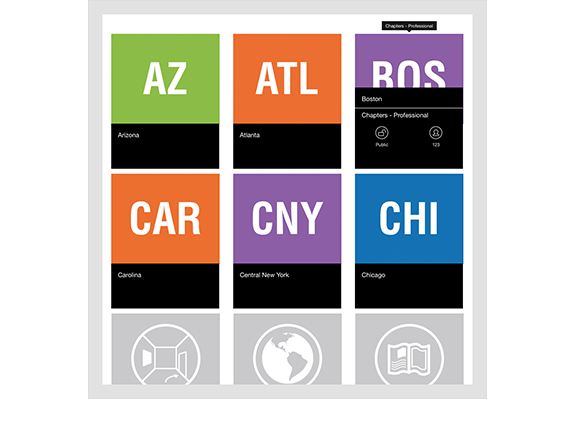 Your Communities
IDSA's network of Professional Chapters stretches across the country and beyond. These groups of designers help create the connection and value you receive as an IDSA member. It's here that lifelong friendships are made and professional opportunity is often found.
Returning IDSA members will automatically be assigned the chapter we have on record. If not, click the banner button under My Chapter to join the chapter closest to where you live. You now have instant access to a rich collection of people who live around you and with whom you can connect immediately. Remember, you can only be a member of one chapter at a time.
Interested in a specific area of design? Join a Special Interest Section to connect with other designers who share your same passions. Join as many Sections as you like.
---
Registering for Events
Purchasing a registration ticket to an IDSA event can now be done directly from your profile page.
The International Design Conference is our next upcoming event with ticket sales going live on May 18, 2018.
Over time, we'll continue to add other IDSA (national and local) programming to this section of the portal.
---
Managing Your Membership
We've made it super easy to keep track of your membership and IDSA purchases. You can now check how much time you have remaining on your annual membership and quickly process a renewal when the time comes.
Sign on for the new Auto-Renewal feature and we'll automatically renew your membership without you having to lift a finger!
---
Need help or have a question? Contact us directly at webmaster@idsa.org or 703-707-6000.