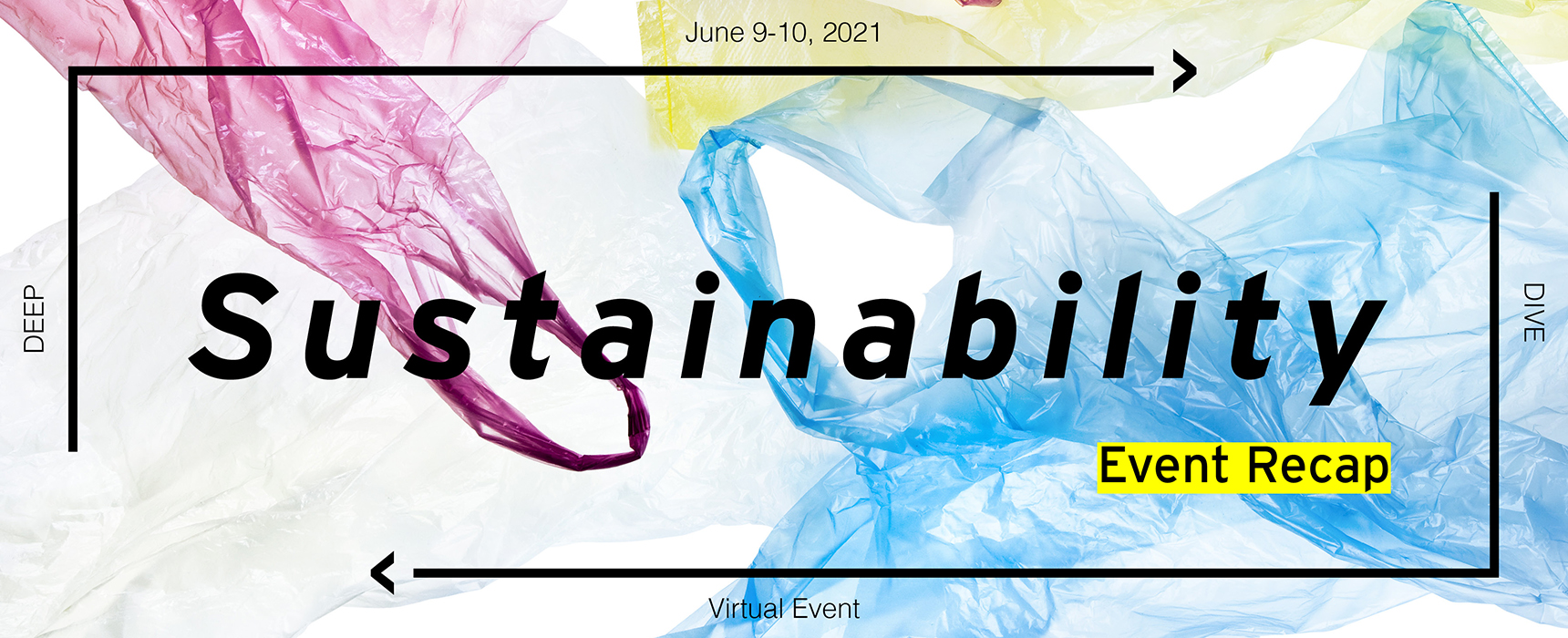 IDSA's second annual Sustainability Deep Dive, held June 9-10, 2021, built upon the first event's success with hundreds of designers gathering online to discuss sustainable design processes, circular systems, energy equity, and more.
Eleven design students received complimentary registration to this event, thanks to generous donations to IDSA's Design Foundation DEI Event Access Program. 
For four hours each day, SDD 2021 attendees enjoyed insightful talks and breakout sessions, with the entirely virtual experience led by co-emcees Kevin Bethune and Sayeh Dastgheib-Beheshti, IDSA.
---
Instagram highlights from participants
---
A glimpse into the sessions
From Kelsey Moffitt's presentation
From the Day 2 Roundtable discussion
From Vinay Bhajantri's presentation
---
Links for continued learning
Day 1:
Daniela Bohlinger, Head of Sustainability at BMW Group Design: "Sustainability as the Driver of Change"
Kari Herlevi, Project Director, Circular Economy at Sitra: "Design the Waste Out with Circularity"
Krystal Persaud, Founder and CEO of GroupHug Solar: "Design for Dystopia"
Tim McGee, Founder of LikoLab: "Life-Centered Design Handbook"
Theresa Millard and Jeff Zeman of TrueNorth Collective: "Sustainability Is a Journey—Taking Those First Steps"
Vijay Bhajantri, Product Designer Engineer at INDEED Innovation: "Cut The Crap: How to Consider CO2 Emissions in Your Design Decisions"
Kelsey Moffitt, Senior Industrial Designer at Terracycle's Loop Global: "Guiding Manufacturers Toward the Future of Sustainable Packaging"
Day 2:
Al Iannuzzi, Ph.D., Vice President, Sustainability at The Estée Lauder Companies: "The Making and Marketing of Sustainable Brands"
Chandra Farley, Just Energy Director at Partnership for Southern Equity: "Good Energy by Design"
Christian Engene, Sustainability Lead at Above: "Design that Addresses Global Challenges"
Louise Manfredi, Ph.D., IDSA, Assistant Professor, Industrial & Interaction Design at Syracuse University: "Design for Sustainability Ability: Exploring Supply and Demand"
Ren DeCherney, Business Development Manager at International Living Future Institute: "The Living Product Challenge: A Visionary Path for the Future of Products"
Marc O'Brien, Co-founder of The Determined and Climate Designers: "What If Every Designer Were a Climate Designer?"
---
Behind the scenes
Learn more about the mission behind this event from the co-emcees; original organizers, Jason Belaire, IDSA and Stephan Clambaneva, IDSA; and the SDD 2021 content team, including Dr. Sasha Alexander, IDSA, Matt Barnes, IDSA, Shruti Parikh, IDSA, and Ethan Smith, IDSA:
Liana Charles, IDSA, attendee: "Very good, thought-provoking conversations coming out of the #IDSADeepDive. Life-centered design, ethics/equity, circular business models, education, environmental policies, calls to action and sooo much more!"
Alan Cucknell, attendee: "Really enjoyed the discussions at the Industrial Designers Society of America (IDSA)'s Sustainability Deep this evening, especially the great discussions at happy hour! If design and sustainability are both meaningful to you, try to sign up...while you can!" 
Daniela Bohlinger, presenter: "Wow, how exciting to talk about our journey into a sustainable company. It was a pleasure."
---
Thank you Sponsors & Media Partners