"Motivated and Ready to Change the World"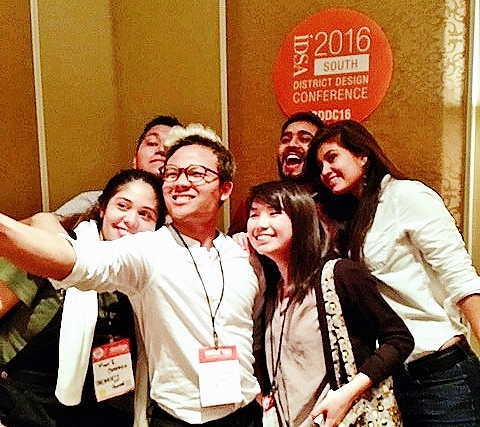 The latest IDSA 2016 South District Design Conference attracted a record number of attendees among this year's DDCs, with almost 300 students and professionals meeting face-to-face. See the album here. "I'm completely thrilled with the conference this year; I couldn't be happier!" says Conference Chair Chris Livaudais, IDSA, an Auburn alum who also serves as South District VP on IDSA's Board of Directors. "The planning team and I set out to create an exciting and memorable experience for the audience and I truly believe that the end result was something special. Each of our presenters delivered high-energy and engaging stories that covered a wide spectrum of design. I walked away feeling inspired and excited for the future of industrial design."
The conference was held in the beautiful Auburn-Opelika, AL area, at the home of Auburn University's School of Industrial and Graphic Design (@AUIndd), led by Professor Clark Lundell, IDSA. The school is in the College of Architecture, Design and Construction, led by Dean Vini Nathan, PhD, who holds degrees in architecture and interior design. To the cheers of SDDC attendees, she said if she went back to school now, she would also study industrial design, a "very cool and hip field."
"Thanks @givinggravity and everyone @IDSA for a great weekend," posted @MacCormier, while @DavidJ_Probst of Virginia Tech agreed. "Awesome weekend at #SDDC16 in Auburn!"
"Best District (Design) Conference ever. Motivated and ready to change the world again!" tweeted Shivakant Pandey, S/IDSA, who's studying ID in a master's program at Georgia Tech, which can now boast the winner of the 2016 IDSA SDDC Student Merit Award—Elvin Chu, S/IDSA—a senior. "Being able to share my work with everyone was such an awesome experience. I attended my first IDSA conference in 2013, and was absolutely inspired by the SMAs. I made it one of my goals to represent my school when the time came."
Chu says in turn, he wanted to inspire all the attendees. "Winning this year's SMA was just icing on the cake; all the school winners showed incredibly strong work, and I'm very honored to have presented alongside them. I'm so lucky to have found what I love to do, with 100 percent support from my family, friends, peers and mentors.  Many thanks to IDSA and Georgia Tech's School of Industrial Design for giving me opportunities I wouldn't find elsewhere!" Chu presented three projects: halo MIDI Control; Vibram EC-001; and Project Edge.
Shelby Taylor (@shleby101), the Auburn University SMA winner who presented at SDDC, said the audience's enthusiasm made her experience "one of the most magical presentations I've ever given. Thank you @IDSA and @AUindd for this opportunity! I feel like these past two days have not only challenged me, but bettered me as a designer, innovator and communicator!" Taylor, Livaudais and Auburn Associate Professor Randy Bartlett, IDSA, were featured in a front page, AONow.com article on the conference by reporter Katherine Haas, who wrote "Every inanimate thing humans touch was once an idea in the mind of an industrial designer."
The Appalachian State University team (@appstateIND) posted: "Heading back up the mountain! Thanks for a great #SDDC16."
James Madison University (@JMU_id) took part for the first time in Student Merit Awards, which also featured presenters from North Carolina State University (@NCStateDesign), Savannah College of Art & Design (@SCADdotedu), University of Houston (@UHouston), University of Louisiana at Lafayette (@ULLayfayette) and Virginia Tech (@ArchDesignVT). App State Associate Professor Donald Corey, IDSA, hosted the SMAs, introduced the judges and announced Chu as the winner. "You all did a tremendous job and should be proud of your great work!" he declared.
The Designing Green student competition, hosted by Auburn University Associate Professor Jerrod Windham, IDSA, just before the conference kicked off, featured Eastman Innovation Lab (@Eastman_EIL)'s Bryan Shackelford, IDSA (@DBShack), and @DirkVanderKooij viaSkype from The Netherlands sharing 3D printer innovations.
"Beauty has its own function, its own usefullness, unearth it and leverage it to its massive potential," Jeevak Badve, IDSA (@JeevakBadve), challenged the SDDC audience when he spoke about The True Vehicle of Design Experience. Badve chaired the 2016 Central District Design Conference and serves as Central District VP on IDSA's Board of Directors.
Other speakers included Russell Kroll, IDSA (@RusellKroll), of Formation Design Group (@FormationDG) on Everything Matters—Innovating Experience; Laurissa Wolfram-Hvass (@LaurissaWolfram) of @MailChimp on The Audience of Research; Pam Dorr of Hale Empowerment and Revitalization Organization with an inspiring talk on how she went from being a Victoria's Secret designer to changing lives with social impact design in the South. Brent Lindberg, founder of @Fuseneo Design, delivered an emotional talk on why empathy matters.
The Portfolio Review, sponsored by IDSA Career Path Partner Eastman Innovation Lab, was kicked off by App State Assistant Professor Michael Rall, IDSA (@Michael_Rall). It gave students the chance to showcase their designs to professionals. "Does anybody else feel like their mind was just blown in that Portfolio Review!?!" asked Taylor. @AppStateIND agreed. "Thanks to all of the design professionals for providing such great feedback." Livaudais hailed Jeff Smith, IDSA (@blaster701jeff), of Autodesk (@adskFusion360) as "crazy talented" for leading a sketch workshop. 
@DamianMycroft, industrial design director of @CocaCola, took rapt attendees on a "tour" of the mega company's redesigned, design studio in Atlanta during Kiss the Past Hello: New Ways to Deliver Familiar Experiences. We'd reveal what he shared, but we promised him we would keep it under wraps. More sweet treats, as Jessica Suarez of @Cinnabon dealt The Winning Card with a talk on her company's redesign, and with the delivery of hundreds of Cinnabons to attendees, complete with extra icing!
The conference wrapped up by revving up with Matthew Chambers of Confederate Motors (@ConfedMotors), who dared attendees to RE-BEL against traditional design thinking. Conference-goers then had another chance to share memories, snap photos, eat and drink at the Closing Party, held at The Hotel at Auburn. "Damn @givinggravity, expectations raised," summed up Georgia Tech Assistant Professor Kevin Shankwiler, IDSA (@shank71). "What the @#$% are we going to next year? Great conference, my friend."
Gold-level sponsors are: Eastman Innovation Lab; InReality and Auburn University. Bronze-level sponsors are: College for Creative Studies; Core77; Dassault Systèmes SOLIDWORKS; KeyShot; solidThinking; Wacom and Yeh Ideology. SDDC16 supporters are: Creature Product Development, Formation Design Group, IN2Innovation and Metaphase.
Can't wait for more IDSA? The Midwest District Design Conference (#MWDDC16) is at the University of Illinois in Urbana-Champaign April 22-24. The Northeast District Design Conference (#NEDDC!6) arrives at the High School of Art and Design in the heart of New York City from April 29 to 30. And this summer, join us for IDSA's International Conference in Detroit, and for the International Design Excellence Awards (#IDSAIDEA) Ceremony and Gala at the iconic The Henry Ford Museum in Dearborn, MI. Follow @IDSA #IDSADetroit16 #IDSAIDEA on Twitter, Facebook and LinkedIn and @IDSADesign on Instagram.