#IDSA Detroit16 is #MakingThingsHappen Aug. 17-20, 2016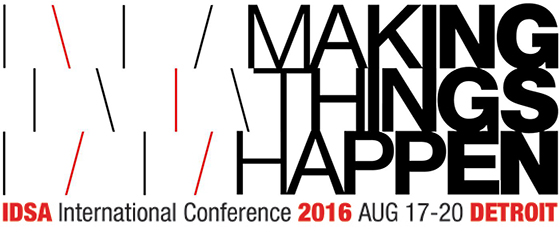 IDSA is #MakingThingsHappen at its 2016 International Conference (@IDSA #IDSADetroit16) from Aug. 17 to 20 in Detroit, MI. The dynamic event will be held in the first US metropolis to be named a UNESCO City of Design—and in the state with the highest concentration of industrial designers.
Conference Chair Sooshin Choi, IDSA, will welcome hundreds of professionals, educators and students in industrial design and related fields from around the world to the Detroit Marriott at the Renaissance Center. "This city is an epicenter for making everything and anything," says the provost and vice president for academic affairs at the College for Creative Studies (CCS) in Detroit. "Here, the people are passionate, full of pride and above all—have an ambition for making things happen. If necessity is the mother of invention—in Detroit—optimism is the father who gets things done." Inspirational 
speakers
 include The Empowerment Plan's Veronika Scott, whose innovative coats transform into sleeping bags to shelter the homeless and provide job skills to those in need. The CCS alumna has been named among Forbes 30 Under 30; Chronicle of Philanthropy's 40 Under 40; and CNN's 10 Visionary Women and CNN Heroes. Ryan Eder, IDSA, of IncludeFitness creates cloud-connected, workout equipment for veterans, seniors and others with accessibility needs. "You'll hear plenty of NOs," Eder recalls of his design journey, "before you hear the YES that gets you where you want to be." The International Conference in Motor City will showcase talks by automotive design leaders such as Morray Callum, vice president of design at Ford Motor Company; Ralph Gilles, CCS alumnus and vice president of design at Fiat/Chrysler Automobiles; and speakers from other global corporations including GE Appliances, Newell Rubbermaid and Eastman Chemical. Major design firms, retailers, academia and design patent law firms will share their expertise. "Industrial designers are the hand that introduces the future to the present—while striving to benefit people, community and industry. We play a critical role in advancing the satisfaction of life through experiences, innovations and services," says Choi, who serves on the new Michigan Design Council. August 17 spotlights the 2016 IDSA/Eastman Innovation Lab Education Symposium: Making Things Happen in Design Education—chaired by Scott Shim, IDSA, also at the Detroit Marriott—and 
IDSA's International Design Excellence Awards (#IDSAIDEA) Ceremony and Gala
 at the iconic Henry Ford Museum in Dearborn, MI. An IDEA exhibit will be open to museum visitors beginning July 11. New at this year's International Conference is the IDSA Career Center on August 18. It will feature the Portfolio Review co-sponsored by Core77; networking; resume advice; and a hands-on sketch workshop. Tours are planned at Chrysler; Ford; Shinola; CCS; and design studios such as Sundberg-Ferar. The IDSA Awards on August 19 include inductions to the IDSA Academy of Fellows. An interactive panel discussion on August 20, "The Impact of Design as a Change Agent," will be moderated by John McElroy, host of the "Autoline Daily" webcast and the television show "Autoline This Week."
Contact KatrinaK@idsa.org to learn about sponsorship and exhibit opportunities for the International Conference and for IDEA. Contact SudhaK@idsa.org to schedule media interviews with the conference chair and speakers, and IDEA jurors and winners; and video and photo opportunities at the conference and at IDEA. Follow the excitement on @IDSA #IDSADetroit16 @VisitDetroit #IDSAIDEA @TheHenryFord on Twitter; Industrial Designers Society of America on Facebook and LinkedIn; and on @IDSAdesign on Instagram.