IDSA Indiana finished the summer with a small, but exciting architecture tour in Columbus, Indiana. We met at the Visitor's Center to watch a short film about the history of the area and then toured the Cleo Rogers Memorial Library designed in 1969 by I.M. Pei.
After checking out Eliel Saarinen's First Christian Church right across the street, we boarded a bus for a trip around town and got to stop and check out several other buildings. 
Eliel Saarinen, First Christian Church, 1969
We saw many historical buildings that helped put Columbus on the map as the country's 6th city for architectural innovation and design by the American Institute of Architects. One of the newer buildings we we able to walk through was the Columbus Learning Center, located between IUPUC and Ivy Tech campuses. This beautiful and modern building housed several computer labs and a bookstore to be shared by both campuses as well as an amazing Chihuly piece. 
Chihuly, Columbus Learning Center
We our day out after the tour with a stop by Zaharakos Ice Cream Parlor for an old fashioned ice cream soda and some cinnamon coke! 
We have a lot of exciting ideas for some new events this fall, so be sure to stay tuned into our website, Facebook page, Linked-in or follow us on twitter so that you don't miss out!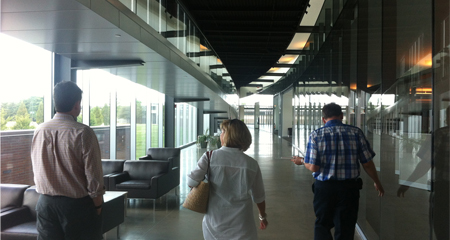 Columbus Learning Center
Eero Saarinen's last work, North Christian Church, 1964