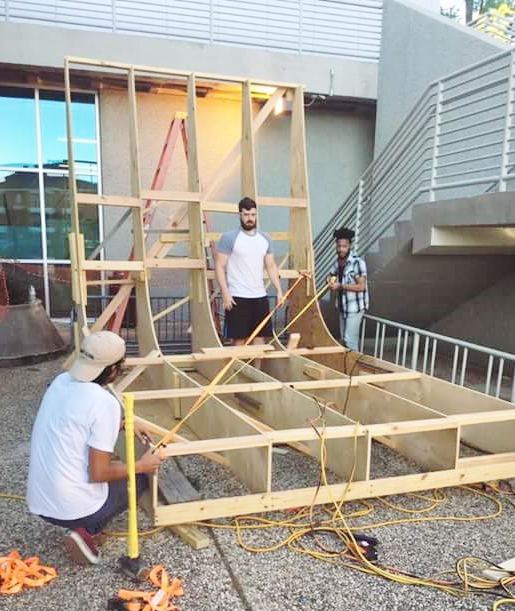 Industrial design played a key role in a social impact design project at the University of Louisiana-Lafayette that was pitched to HGTV. Justin Segura, an industrial design senior, teamed up with about a dozen architecture and interior design students to build a tiny house called MODESTEhouse for Habitat for Humanity. The 200 sq. ft. structure was the result of a design-build elective course led by architecture Professor Geoff Gjertson.
The Habitat for Humanity project, expected to be completed by September 2017, will be donated to a survivor who lost their RV or trailer home in floods of August 2016. Segura calls it a "rewarding experience" and a challenge that gave him real world experience by working with architects to design a product. "Knowing that the client was a war veteran who lost his home to the recent flood, was the driving force of a lot of my design decisions. I wanted to be sure that everything that we did as a part of the house's design made him feel at home."
Segura tells IDSA he designed effective storage and multi-purpose furniture for use in the tiny home. He built a custom table/seating arrangement to pull in and out of  cabinets. He also served as a design consultant on decisions in the structure of the house. The former student of Assistant Professor Adam Feld, IDSA (faculty advisor to the IDSA Student Chapter) and Associate Professor Andy Loewy, IDSA, graduated with a BID in May 2017 and expects to join Dis-Tran Packaged Substations in Pineville, LA, designing flat-packed substations for production.
In the project, students used structurally insulated panels on the walls and solar panels on the roof to keep the utility bill tiny, as well. The north gridwall is clad in polycarbonate glazing filled with insulating areogel developed by NASA. The students and Professor Gjertson held a video conference with a casting director to pitch the possibility of appearing on the HGTV series "Tiny House, Big Living."
Cherie Hebert, a founder of the tiny house company and CEO and partner at BBR Creative in Lafayette, says she she offered to share her construction space with UL-Lafayette and Habitat for Humanity so everyone involved could work together to make as many homes as possible. "I really like the idea of students being out there and my team and their team having the opportunity to learn from one another," Hebert adds. "I really do want to support the public-private, nonprofit collaborative kind of thing as part of the business."