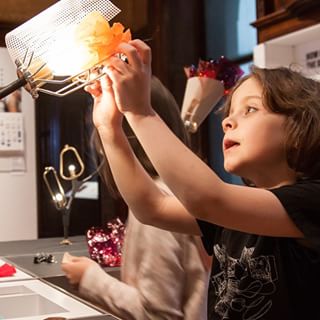 Generation Z is growing up with the hottest gadgets and latest designs, but do youngsters know just what's involved in making these products? Cooper Hewitt Smithsonian Design Museum's 2015 Design Camps are offering chidren ages 7-12 a hands-on chance to find out. Four, one-week camps are set for this summer; each features a guest designer:
Graphic Design Now, July 20-26: Campers get a closer look at the exhibition How Posters Work, discovering how designers use text as image, manipulate scale and tell a story. 

Guest Designer: Ellen Lupton, Senior Curator, Cooper Hewitt Smithsonian Design Museum.
Architecture Unleashed, July 27-31: Environment, engineering and technology collide as campers design the future of our built environment, drawing inspiration from the exhibition Provocations: The Architecture and Design of Heatherwick Studio. Guest Designer: Nick Richardson.
Wearable Design, August 3-7: This fashion workshop engages campers with texture, pattern, form and structure. They'll create mood boards and accessories about their personal style. Guest Designer: Mary Huang, Continuum Fashion.
Product Perfect, August 10-14: Campers explore five centuries of product design in the museum's Making Design collection. They'll sketch, tinker, sculpt and design products. Guest Designer: Oscar Lopez.