Women-Owned Businesses on the Rise in Largest US City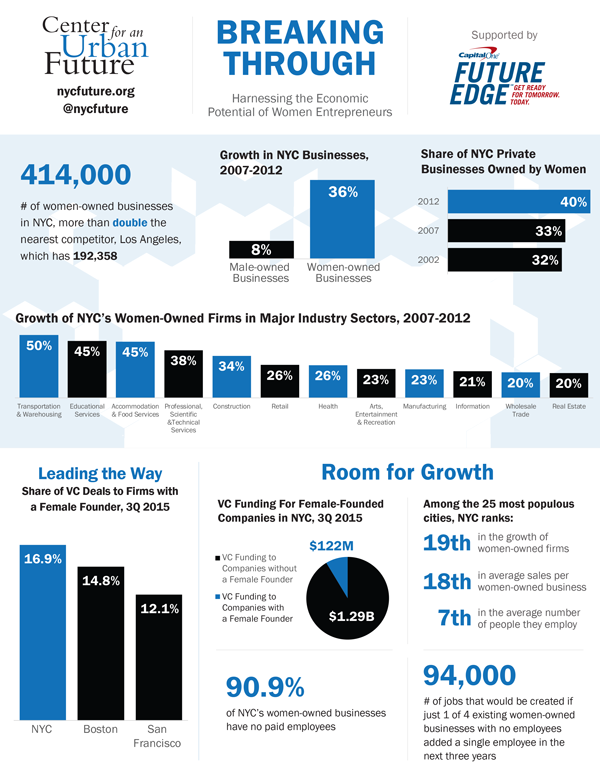 A major, new study reveals a dramatic surge in female entrepreneurs in the most populated city in the United States, with the number of women-owned businesses growing four times as fast as male-owned businesses in the past five years.
The study, conducted by the Center for an Urban Future and funded by Capital One's Future Edge initiative, also shows that the number of women-owned firms in New York City increased by at least 20 percent in nearly every major industry—and that women are starting a greater share of the tech companies in the Big Apple, than in Silicon Valley and Boston.
Breaking Through: The Economic Impact of Women Entrepreneurs shows women-owned businesses now make up more than 40 percent of private companies in New York City, up from 33 percent five years ago and 32 percent a decade ago. In the last five years, the number of women-owned businesses increased by 36 percent, while the number of male-owned businesses increased by just eight percent during the same period.
With a total of 413,899 women-owned firms—most of them in Brooklyn—New York City has more than double the nearest competitor, Los Angeles.
In the past five years, the number of women-owned firms jumped in transportation and warehousing (50 percent); educational services (45 percent); accommodation and food services (45 percent); professional, scientific, and technical services (38 percent); construction (34 percent); retail trade (26 percent); health care and social assistance (26 percent); manufacturing (23 percent); information (21 percent); real estate (20 percent) and wholesale trade (20 percent).
"Female founders are also innovators in some of the most cutting edge technologies," write the study authors, citing examples such as Ayah Bdeir, whose company littleBits makes electronic building blocks that empower kids and adults to create their own inventions.
Read more on the study in The Wall Street Journal and check out IDSA's Women in Design Special Interest Section, led by two noted designers who run their own firms, Ti Chang, IDSA, of CRAVE in New York City and Nancy Perkins, FIDSA, of Perkins Design Ltd. in Chicago.