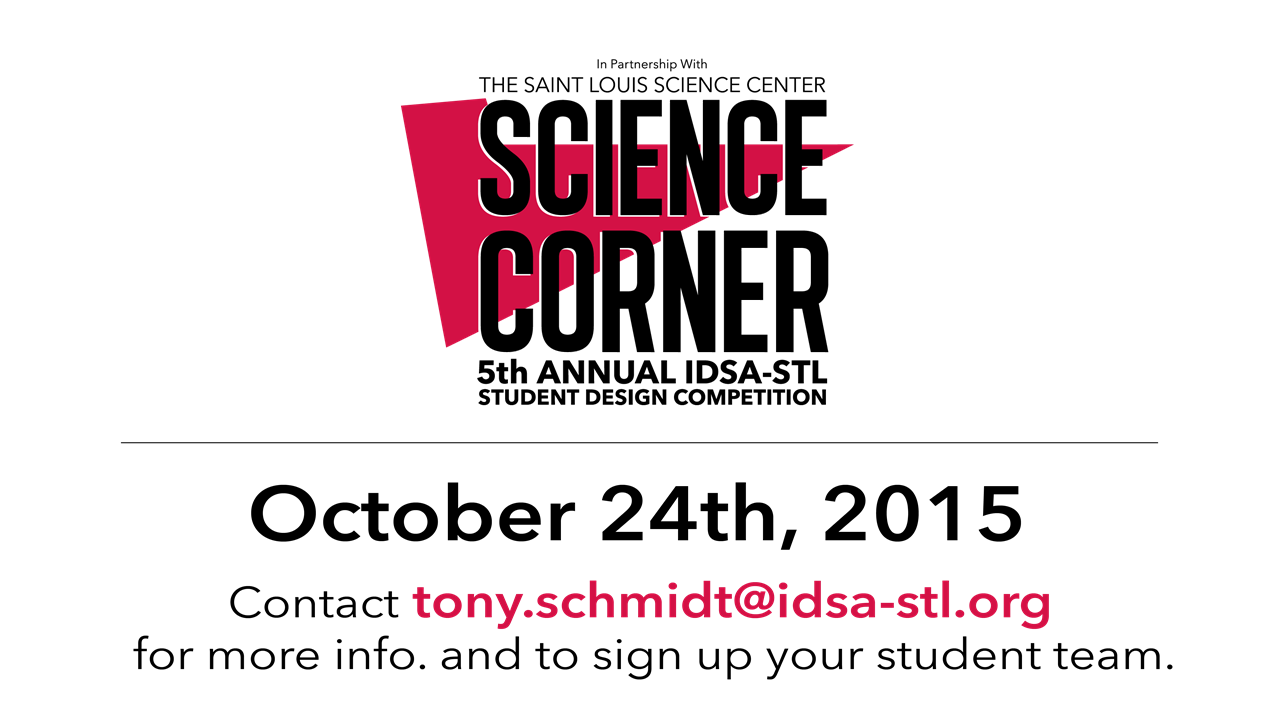 The Industrial Designers Society of America, St. Louis Chapter (IDSA-STL), in partnership with the Saint Louis Science Center (SLSC) are proud to announce the 2015 5th Annual IDSA-STL Student Design Competition.
When: October 24th, 2015 -- afternoon public presentations followed by award ceremony
Where: The Saint Louis Science Center, Boeing Hall
The Design Challenge: Invent an engaging design solution for an experience that could take place at Saint Louis Science Center's Science Corner
Background Info:                                                
Site location is at the undeveloped Science Corner, at the intersection of Kingshighway Blvd. and Manchester Ave., St. Louis, MO., which is also an entrance to The Grove entertainment district.
Science Corner is composed of 42,000 sq. ft. of land owned by the Saint Louis Science Center.
Solution(s) should bolster the Science Center educational mission statement: "To ignite and sustain lifelong science and technology learning"
Considerations must be sensitive to the surrounding Forest Park Southeast neighborhood.
A designated Science Center spokesperson will serve as the client representative.
Presentations will be open to the public before a panel of jurors from the St. Louis professional design community, SLSC and Forest Park Southeast neighborhood.
Student entrants must be enrolled within a university design program and are strongly encouraged to work in cross-disciplinary teams.
Entries limited to two (2) teams from each university.
Cash award provided to the winning team.
Distribution of a detailed design brief will follow this Spring.
Submitted designs can remain on public display at the Science Center after the competition.
For further questions please contact: Tony Schmidt, IDSA-STL Chapter Chair at tony.schmidt@idsa-stl.org
Please help us to promote this competition by downloading, printing and sharing copies of the official Announcement and the Brief available as PDF files below.