Ammunition Accepts National Design Award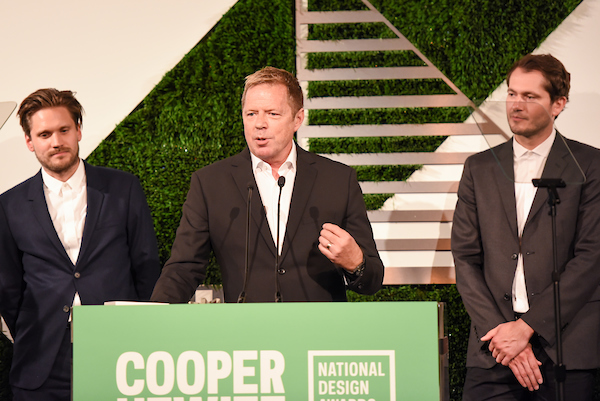 "We are incredibly humbled by this amazing honor from Cooper Hewitt. We've been so fortunate to work with unbelievable clients and partners who understand what great design can do when you put creative talent in a leadership position. I'm very proud of our team and the fantastic body of work we've created together, and we are all excited to continue to push the boundaries of what we can accomplish."
–Robert Brunner, IDSA, founder and partner, Ammunition
On Oct. 20, 2016, in a grand ceremony at the Cooper Hewitt, Smithsonian Design Museum in New York City, IDSA Member Robert Brunner accepted the National Design Award for Product Design on behalf of his firm, Ammunition. The awards honor lasting achievement in American design and recognize excellence, innovation and enhancement of the quality of life. Also attending the ceremony: Jonas Lagerstedt, creative director; Victoria Slaker, vice president product design; Matt Rolandson, partner; Brett Wickens, partner emeritus; Christopher Kuh, vice president, industrial design studio and a juror for IDSA's International Design Excellence Awards (IDEA) 2017.
Ammunition was recognized for pursuing new ways of partnering with clients to design meaningful products and build successful business ventures. Its clients include Adobe, Beats by Dre, Lyft, Square, Polaroid and UNICEF. Ammunition was founded by Brunner in 2007. Their work has earned almost two dozen, IDSA International Design Excellence Awards (#IDSAIDEA) including Gold for Square Stand, Nook, Beats and Fuego products. In 2015, Ammunition won six IDEAs for Adobe Ink & Slide; Beats; and Polaroid Cube entries.
First Lady Michelle Obama is the Honorary Patron for this year's National Design Awards, initially launched at the White House in 2000 as a project of the White House Millennium Council to celebrate design as "a vital humanistic tool in shaping the world... to increase national awareness of the impact of design through education initiatives."
This year's other winners are: Moshe Safdie for Lifetime Achievement; Make It Right (founded by actor Brad Pitt to build homes for Hurricane Katrina survivors) for Director's Award; Bruce Mau for Design Mind; Center for Urban Pedagogy for Corporate & Institutional Achievement; Marlon Blackwell Architects for Architecture Design; Geoff McFetridge for Communication Design; Opening Ceremony for Fashion Design; Tellart for Interaction Design; Studio O+A for Interior Design; and Hargreaves Associates for Landscape Architecture.
The 2016 National Design Awards Gala was held during National Design Week from Oct. 15 to 23. Cooper Hewitt's award-winning Education Department hosted a series of free public programs based on the vision and work of the National Design Award honorees.