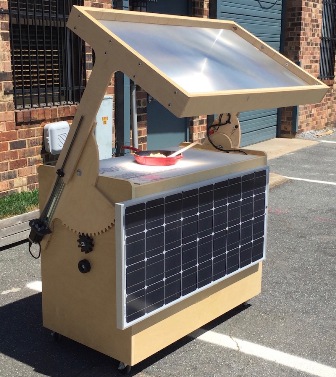 The latest Cradle to Cradle Product Design Challenge winning entries range from a solar furnace built from television parts—to camping gear that leaves no trace. C2C Innovation Institute President Lewis Perkins says it all "provides a clear means of translating the vision of a circular economy into reality."
Designers across 19 countries envisioned solutions for the circular economy powered by C2C product design principles in the fourth of a series of six challenges in partnership with Autodesk and made possible by Arconic Foundation. The winning entries are:
Best Student Project: REX by Mallory Barrett, a student at North Carolina State University. The reusable, stainless steel, prescription medicine containers do not require adhesive labels and eliminate the need for the constant reproduction of plastic prescription medicine bottles.
Best Professional Project: Eco-Luggage by Frame Design Studio uses design for disassembly. Individual parts can be repaired or replaced as needed. At the end of use, they can be cycled as biological and technical nutrients.
Best Use of Aluminum: SolarCasting by Solarmill uses a solar furnace built from salvaged television parts. Concentrated sunlight melts a crucible of reclaimed aluminum, which can then be poured into a variety of molds to produce mechanical or aesthetic objects. By combining the 100 percent carbon-free foundry with lead-free aluminum, SolarCasting creates an unbreakable chain of material reclamation without the need for fossil fuels.
Best Use of Fusion 360: Leave No Trace Leaf Knife designed by Ari Elefterin and Matt Callahan of Parsons School of Design, The New School, is the first product of the camping gear company that offers use options for product care and equipment, while keeping all technical materials moving through a cycle of use and reuse. The Leaf Knife's design represents an effective blend of sculpting, parametric modeling and assembly joints using Fusion 360.
To enter the challenge, participants first had to complete a free, two-hour online course, Designing Cradle to Cradle Certified Products for the Circular Economy, developed in collaboration with Autodesk. The course was made possible by Arconic Foundation, which is dedicated to advancing science, technology, engineering and math (STEM) education and skills training worldwide, with a special emphasis on engaging and creating access for under-represented and under-served groups.
"With a rapidly growing population and finite resources, now more than ever, it is necessary for designers and engineers to design for the circular economy, creating a future where we can live well and within the limits of our planet," says Lynelle Cameron, senior director of Autodesk Sustainability and president and CEO of the Autodesk Foundation.
The fifth challenge opens for entries in February 2017.