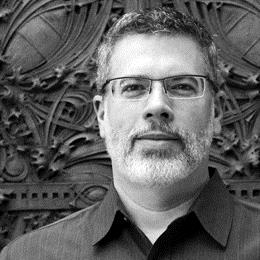 Warren Ginn, FIDSA
Inductee, IDSA Academy of Fellows: 2012
Sections VP, IDSA Board of Directors: 2009–2012
Chair, IDSA Materials and Processes Professional Interest Section: 2002–2012
Warren Ginn, FIDSA, is principal of GinnDesign in Raleigh, NC, a product development consultancy that develops successful product solutions for clients ranging from start-ups and small companies to academic institutions and large corporations within a wide variety of markets.
He's also assistant professor of the practice, industrial design at North Carolina State University's College of Design—site of IDSA's South District Design Conference 2018—one of five DDCs that year. Ginn is the volunteer coordinator of the committees that are planning the DDCs. "Since my first experiences with IDSA, I've been a big fan of the DDCs," explains Ginn. "For students and young professionals, this is where they are first introduced to the ID community and make their first connections to the professional world through the presentations, exhibits, portfolio reviews and the all-important social gatherings. For me, after 25 years, these events are as much a family reunion with friends and colleagues as they are a professional conference. I want these young designers to have those same supportive experiences and lasting professional relationships I've enjoyed."
Ginn is working with IDSA Senior Manager of Conferences Katie Fleger to help organizers streamline planning so they don't have to reinvent the wheel while keeping costs down. "Hosting the events at partnering design schools reinforces the role educators and students play in the DDCs while reducing facility costs without sacrificing the valuable conference experience," he says.
He adds that In the age of social networking, there's still no substitute for face-to-face interactions with colleagues and friends. "For those practitioners looking to hire new talent, the DDCs provide an opportunity to review student work at the Portfolio Review and get to know the students one-on-one. Many internship and entry-level employment opportunities begin at these conferences."
Before starting GinnDesign in 2008, Ginn was senior research industrial designer at the Renaissance Computing Institute (RENCI), a research institute of the University of North Carolina at Chapel Hill. He also served as the director of product development for Elumens Corporation in Durham, NC. He also worked for seven years as senior industrial designer for a product development firm in Long Island, NY and for three years as the designer for a large structural foam molder in Fort Wayne, IN.
 
In addition to promoting materials and processes education within the design community, Ginn has presented at numerous conferences and workshops hosted by organizations such as Society of Plastics Engineers (SPE), Society of the Plastics Industry (SPI), National Plastics Exposition (NPE) and Association of Rotomolders (ARM). He promotes the value of materials and processes education within the industrial design community to improve collaboration between the industrial design, business, engineering and manufacturing communities.
Ginn earned his MID at NC State in 2014 after graduating from its undergraduate product design program in 1991. "I'm always proud to show off my alma mater. But as a local, practicing product development consultant, I want to promote the Triangle (Raleigh, Durham, Chapel Hill) as a center for design and innovation," asserts Ginn. "With the many world-class education institutions (including NC State College of Design), Research Triangle Park which is home to healthcare and biotech research and innovation, and a growing community of start-ups, this area represents a hotbed of opportunity for design."
Contact: warrenginn@gmail.com