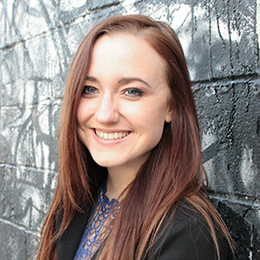 "I was the kid who made gumball machines or small houses out of any box I could find. Industrial design was a way for me to use my creativity to take on challenging projects and make something that could potentially make a difference in the world." 
And make a difference, she will. Rachel Lopdrup, IDSA, is the 2015 Industrial Designers Society of America (IDSA)'s Student Merit Award (SMA) representative from the South Design District. She graduated in May 2015 from Auburn University with a bachelor's degree in industrial design. This fall, she will join Harvard University's Health Careers Program for post baccalaureate work. "I fell in love with innovation in the medical field and am considering a number of routes to take after this program," says Lopdrup.
Upon graduation, she joined the Spine Institute Northwest in Bothell, WA as a patient experience designer-marketer, serving as an advisor on strategies to build patient-provider trust. Among her duties—directing the redesign of the office interior and website; creating medical illustrations; and curating research for future publications.
In the first half of 2014, Lopdrup interned in luxury outdoor furniture design with Summer Classics in Birmingham, AL. "I was privileged to collaborate with phenomenal people, and now about 15 of my pieces are out on the market with Frontgate's spring issue," she says.
What's her biggest inspiration for ID? She credits her family tree, and educators. "Can I pick a whole country?" asks Lopdrup. "My heritage is mostly Danish, and Denmark has some of the most beautiful designs. Tied with Denmark would be my high school art teacher, Shelly Bradon, who encouraged me to make my passion a career."
At the SDDC, Lopdrup presented medical concepts. She talked to lead nurses and other experts to figure out the ins and outs of devices such as mass spectrometers.  Lopdrup identified the largest problems she could tackle with one product, and sourced parts she could use to replicate $40,000 technology into a device that, based on the sourced prices, could shift diagnostics to the home for potentially only $200. "Strong research drives innovation so I approach design with that mindset," explains Lopdrup. "I'm considering working with biotech contacts to develop one of my medical concepts."
The news that she had won a SMA took her by surprise. "I think I cried. I was up against phenomenal competition, and honestly thought others' work… looked so much better. As more of an in-depth researcher, I find it sometimes difficult to communicate my work as beautifully as others, but I'm glad the judges were able to see past that— to who I am."
Her eventual goal involves ID; possibly even an MD. Lopdrup hopes to own—or consult with—a biotech innovation company, and may become a physician—a career goal spurred by a devastating, personal loss at the age of only six. "This summer, I've been able to work closely with a leading, minimally invasive spine surgeon; play with one of the original Da Vinci Surgical Robots; encounter person after person whose lives have been saved by doctors; and talk to multiple health care professionals who believe having an MD would put me in the best position to push innovation in the medical field," she says. "When I was young, I lost my mother to a cancerous brain tumor, but when my sister had three tumors, the surgical teams saved her life each time. The medical field does so much for people, but it's far from perfect, so I want to help shape it and possibly save lives along the way."
Lopdrup knows the impact of ID: "Industrial design alters capabilities and/or influences behavior and emotions through the design of products, strategy, experiences, etc. If you give a prosthetic to someone who has lost their leg, they have the capability to run—whereas before— they couldn't take a step. With design, you can make someone's day; make a business the best of its kind; save a life; or give someone a power they never had before."