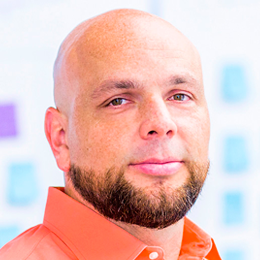 Owen Foster, IDSA | Co-Founder, SHiFT; CSAO, Aether Global Learning
The diverse background in architecture, landscape, environmental and industrial design of Owen Foster, IDSA, has allowed him the opportunity to work on an extensive array of projects ranging from small consumer products to complete green environments for several municipalities. He has held positions such as: design director for multiple product design and manufacturing companies with high-profile clients, co-founder of Fulcrum Collaborative, a group of designers from various backgrounds who work collectively to bring budding ideas to reality, and East Coast landscape architect representative for Monrovia Nurseries.
Though very successful in his endeavors, becoming an educator and mentor seemed to be Foster's calling. He started this career with professorships at Auburn University and University of Louisiana-Lafayette in the field of industrial design. Foster recently held the positions of ID Group (industrial design, design management, service design, design for sustainability, interaction design and marine design) Department chair and professor at Savannah College of Art and Design (SCAD). Under his leadership, SCAD industrial design was ranked in the top 10 by Design Intelligence each year, while earning awards from world-renowned competitions.
Foster facilitated more than 20 cross-disciplinary collaborative studio projects with Fortune 500 companies such as Coca-Cola, GE, Mattel, HP, McDonald's, BMW and many others and guided international study abroad programs in Ireland, UK, Hong Kong, Taiwan and China. Foster was named one of the Top 30 Most Admired Educators in the Field of Design in 2014; IDSA Educator of the Year 2015; IDEA jury member for 2014-15 and 2015-16; and IDEA jury chair-elect for 2017. He also speaks around the world as a leader in design education.
Foster holds a bachelor's degree in landscape and environmental design, and a master's degree in industrial design from Auburn University.
Foster is co-founder of SHiFT Design Camp and one of the founding partners and CSAO of the new Aether Global Learning. Teaming with John McCabe, IDSA, and Tom Gattis, IDSA, Foster looks to create freethinking empathetic practitioners who will passionately lead their local and global communities through logical discourse, impeccable craft and sound strategic direction. Foster wants to provide a world-class educational experience through platforms for discovery, creation and reflection for the global community of makers, thinkers, changers, givers and leaders.