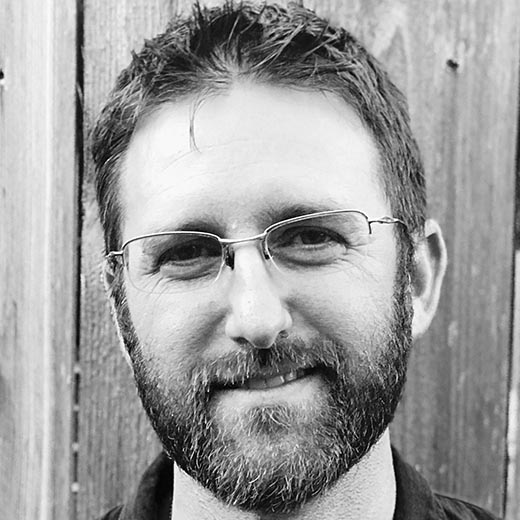 Kyle Ellison
Founder & Design Principal | Trailside Creative
Kyle Ellison is an industrial designer, maker, and builder with a love for the outdoors and a passion for building meaningful user experiences.
Kyle started his career by designing helmets in the Santa Cruz, CA mountains for brands like Bell Sports and Giro Sport Design. Over the last two decades, he's found his niche designing award-winning products and experiences across the outdoor and action sports industries for notable brands that include Nutcase, Fox Factory, Gossamer Gear, YETI Coolers, 6D Helmets, GCI Outdoors, and many more.
Kyle has a deep passion for Design and the power it has to create a better world. Whether by providing inclusive access to meaningful and enriching experiences for people from all walks of life, or by envisioning new products that are not only sustainable, but that are built to outlast their owners. This passion for Design drove Kyle to start Trailside Creative back in 2018, a boutique studio located in Austin, TX that is driven by the mission to "design products that inspire people to live active healthy lifestyles" and is a place where Kyle gets to follow his passion of designing products for the outdoors.
---
Statement of Candidacy (South District Representative - Districts Committee | 2023-2024 term)
For the past three and half years I have served our Austin, TX IDSA community as both a Vice Chair for the former Texas Chapter and then as the Chair for the newly formed IDSA-ATX city-based Chapter. I've had the opportunity to be on the leading edge of IDSA's City-Based Chapter Initiative, when IDSA-ATX was selected to be among the first city-based IDSA Chapters. The process of shifting from a State / Region based approach to the City focus has given me fresh insight into ways our community is growing and how we can continue to promote that growth with inclusive events, activities, and engaging content that reaches across time zones.
My focus as an officer for the ATX Chapter has been on encouraging community growth and finding opportunities for Designers and Studios to connect with each other. With Continuing Education as the recurring theme, the IDSA-ATX officer team and I have pushed forward events that encourage new skill development, and we continue to explore ways our IDSA community can provide information on the latest tools and technology for Designers. With a bit of fun thrown in, our Chapter holds a regular monthly Sketch Jam session, in addition to other events.
Back in January of 2021, I gave a Pecha Kucha presentation during a multi-Chapter virtual gathering. Inspired by the passing of my uncle, the theme was about consciously going toward the places where you can have the greatest impact. This way of thinking has been a driver for me ever since, and I believe serving as the IDSA South District Chapter Representative is an opportunity for me to help IDSA out in a new way, and to have an even larger impact on our Design Community and the IDSA organization.
My goals in this role are to increase the scale of the community connecting efforts that I've put into Austin and use my experience to help build more communication between Chapters so we can better share our successes and failures. Gaining insights from the group's experience, each Chapter can improve what we offer to our local Design communities.
In addition, I hope to help our Design Schools and local Design Studios engage more with their local communities to foster relationships with young budding designers, so we can find ways to better communicate with local youth programs and help them build an understanding of how awesome the profession of ID really is!
I'm eager to continue helping my community of Designers, as we face the new challenges we are presented with.