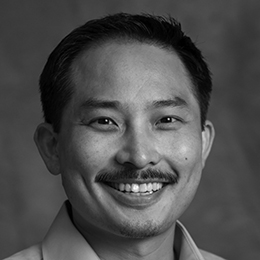 George Chow, IDSA
Assistant Professor | University of Houston
George K. Chow is currently an Industrial Design Assistant Professor at University of Houston. Prior to joining UH, George was an Adjunct Faculty member at Columbus College of Art and Design and an Industrial Design Lecturer at Ohio State University.
George has worked professionally as an Industrial Designer since 1999 developing products for companies such as KitchenAid, Whirlpool, Hoover, SmartDisk, LG Electronics, Samsung, Midmark, Charbroil, Crown Equipment, Delta Faucet and Evenflo. George currently holds six design patents for products including a fork-lift truck control area, vacuum cleaner and various medical products. He has also received several Design awards for the products that he helped to develop, including IDEA Gold, IDEA Silver, Red Dot: Best of the Best, iF Product Design, Chicago Athenaeum Good Design and Medical Design Excellence Awards.
George received his BFA in Industrial Design from Carnegie Mellon University and MFA in Design Research and Development from Ohio State University. George has been teaching Industrial Design at a collegiate level since 2008 and has won several teaching awards, including Adjunct Faculty Teaching Excellence (Columbus College of Art and Design), Outstanding Graduate Associate Teaching Award (Ohio State University) and Excellence in Teaching (University of Houston). George has been actively involved with IDSA as a member since his undergraduate studies, participating in conferences and events and serving as a portfolio reviewer. When not teaching or designing, George enjoys photography, drumming, cooking, traveling, fishing and, most of all, spending quality time with his family and friends.
---
Statement of Candidacy
I have been a part of IDSA since 1995 when I was a student member at Carnegie Mellon U. Throughout the years as a professional, and now as an educator, I have been a part of IDSA and have met many talented and inspiring people from different backgrounds by attending IDSA conferences and events whenever possible. I believe in the vision and mission of IDSA and would like to help with continuing its legacy and growing it further.
At this stage in life, I feel I am in a good position to help with growing and cultivating the IDSA chapters in the South District. I would like to start this process by establishing a new IDSA chapter in Houston, TX. We currently have a strong IDSA student chapter at University of Houston and have some professional IDSA members in the city; however, we have not formally unified ourselves as one chapter. There are also some professional industrial designers and educators in the city and surrounding areas who were once members but who no longer feel that the cost of the membership dues justifies the benefits of the membership. I would like to encourage them to rejoin IDSA, while being an advocate and liaison for them in listening to and understanding their concerns and frustrations, and making their suggestions known to the Board and vice versa.
Once we have started the Houston IDSA Chapter, I would like to start a local mentorship program that matches professionals with students and encourage all the other local chapters to do the same. We can begin interacting with the Austin and Dallas Chapters by meeting together in one city for ID firm and school tours and rotating the meeting location to the other cities. As IDSA's South District Chapter Representative, I would encourage others in the South District to do the same with their respective local chapters. This could be accomplished formally and informally through leading by example, mentorship, encouragement, sharing of resources and collaboration as we plan events and activities together.
As we grow in our respective chapters, I would like to plan for events that could bring all of the chapters in the South District together, such as a South District Conference. During this time of COVID-19, we will most likely need to do this online or via a hybrid in-person/online approach- which will pose its own challenges. However, the difficulties could also provide new opportunities for engagement and growth, since physical and financial barriers such as traveling cost, distance, travel time and lodging costs are no longer an issue or reduced with online/hybrid platforms.
If selected as the South District Chapter Representative, I would do my best to foster growth of local chapters, facilitate interactions and connections between chapters, and reach out to ex-members and/or current members who live in between local chapters to encourage them to participate and engage with the larger IDSA community.