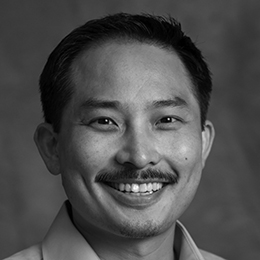 George Chow, IDSA
Assistant Professor | University of Houston
IDSA is delighted to honor George Chow, IDSA, assistant professor of industrial design at the University of Houston, with a 2021 IDSA Young Educator Award. Chow is highly regarded for making several key improvements across the College of Architecture and Design and for always going above and beyond for his students. 
Since Chow joined the University of Houston faculty in 2016, he has focused on making the student design experience smooth and meaningful. One such initiative was to spearhead providing students with floating Solidworks and Keyshot licenses. This increased their productivity and the quality of their work, while also allowing for a seamless transition during the COVID-19 lockdown, since students already had the tools they needed to work remotely.  
Chow has written papers on industrial design education and sustainability, presented at conferences, and developed a sustainability class, which was offered for the first time in spring 2020. Over the past year, he has threaded sustainability through all his studio projects, encouraged students to reuse materials, and advised on student-run green initiatives.  
"From the first day of his teaching at the University of Houston, he has presented his passion for education and spent additional hours to mentor students," writes EuonSook Kwon, PhD, IDSA, who hired Chow and is the current chair of the School of Industrial Design at Georgia Tech. "He is an engaged and excellent teacher based on the number of students' design awards, the samples of student work, and highly favorable course evaluations." 
As IDSA's current South District Chapter Representative, Chow tirelessly volunteers his time to promote students' work and coordinate events that build connections between students and professionals across IDSA's South District and nationally.   
"George is a force of positive change," writes Anne-Elisabeth Baker, S/IDSA, a rising senior in the University of Houston ID program. She was taking one of Chow's studio courses when the pandemic hit last year. During that time, she says, "George made himself entirely available to us and spent so many unrecognized hours on one-on-one sessions with each of us to make sure we had a strong foundation. His motto is, 'No designer left behind.'"