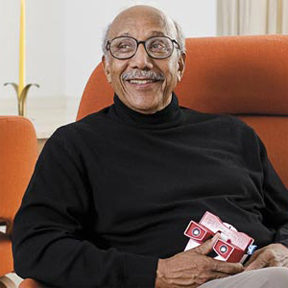 Charles Harrison, IDSA
IDSA Personal Recognition Award: 2006
Charles "Chuck" Harrison is a designer, educator and speaker specializing in industrial design across multiple consumer products areas. The primary portion of his career was spent working for Sears Roebuck & Company, beginning as a freelancer, then as a staff designer and later as the head of the company's design department. A prolific designer, Harrison's work touched almost every area of household products from cribs to tractors and everything in between.
Designs by Chuck Harrison not only reflected our changing lives, they often drove the transformation that took place in the American home and workplace during the era following World War II through the mid-1980s.
He executed more than 700 designs, a significant number of which were highly successful in the marketplace. Perhaps most iconic were Harrison's redesign of the View-Master in 1958 and the first-of-its-kind plastic refuse can designed in 1963. The View-Master quickly became a worldwide success as a toy. His design sold with only minor color changes for over 40 years and could be found in almost every U.S. household and households throughout the world.
Similarly, Harrison's design of the polypropylene refuse can in 1963 remains resonant today. The cans were developed during a unique period within plastics manufacturing, affording Harrison the opportunity to adopt an old standard into a new execution. His subsequent reworking of the can to a rectangular form with wheels is the foundational design for contemporary refuse containers that line the alleys and streets of urban and suburban America.
Throughout his prolific career, Harrison focused on developing relevant, useful products to solve, rather than create problems for consumers. He continues to build his legacy as a speaker on the topics of design inclusion and education and as an educator at Columbia College Chicago and The School of the Art Institute where, leveraging his extensive industry contacts, he helps prepare young designers for entry into the profession.
Harrison is the 2008 National Design Award recipient for Lifetime Achievement. He also has received awards from the Industrial Designers Society of America (IDSA), Executive Leadership Council and HistoryMakers, among many others. In 2009, he received an honorary doctorate from the School of the Art Institute of Chicago.
He received significant mention in the Encyclopedia of Chicago, in the Encyclopedia Brittanica, and has been profiled in numerous media including The Washington Post, Chicago Tribune, Chicago Sun-Times, Ebony Magazine, The Crisis Magazine and on the Tavis Smiley Radio Show.
Harrison holds a BFA in Industrial Design from The School of the Art Institute of Chicago (1954) and an MS in Art Education from the Institute of Design (1963).