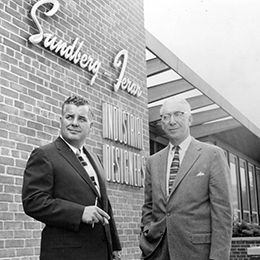 "This legendary design firm has been putting the 'D' in design since 1934. Sundberg and Ferar mentored many of today's industrial leaders. They retired in 1975 and passed away less than a week apart in 1982—but their legacy endures," said IDSA Board of Directors Chair John Barratt at the IDSA Awards 2016, as he honored the late Carl Sundberg and Montgomery "Monte" Ferar, founders of Sundberg-Ferar with the IDSA Personal Recognition Award.
The award was accepted on behalf of the product innovation studio in Walled Lake, MI by Curt Bailey, IDSA, president of Sundberg-Ferar, and Jeevak Badve, IDSA, vice president of strategic growth at Sundberg-Ferar and the chair of the IDSA International Conference 2017.
Badve took a trip back in time. "Travel to the 1930s. The economy was trying to crawl out of the Great Depression. The industrial revolution was about 100 years in making—big, clunky, gritty and greasy defined production. There were just bits and pieces of the Bauhaus wind blowing. And in this environment, these two young men, Sundberg and Ferar, standing on the basic training they acquired from Harley Earl himself at the then state-of-art GM Art and Color Section, decided to apply that aesthetic and ergonomic thinking to the rest of the product world."
"What a big, audacious move to bring industrial design thinking to the masses—to everyday ordinary objects—to the sea of objects surrounding us," declared Badve. "It was a radical idea then, but steadily and strategically brought design to the common American household. Sundberg and Ferar were among the pioneers of ID who paved the path for designers to be brave and confident of our profession and leverage it to build a successful business; bring happiness to the end user; and be the custodians of the ecology of this planet."
Today, the studio—with Bailey at the helm for a quarter of a century—offers expertise not only in ID, but also in innovation strategy, design research, user interface, ergonomics, engineering, model making, packaging and more in a wide range of products from home appliances to medical devices; from tools to UX/GUI; and from automotive to mobility solutions. Clients include Hyundai, Sears, Chrysler, NASA, John Deere, Wiss, Arrow, Stryker, Wolverine, GE Appliances, Coca-Cola, Denso, Genze and numerous startups.
"I'm really proud of the award, of Jeevak and our staff, and that I've been part of this legacy," says Bailey.
"It's a great celebration of these pioneers, for us to wonder in awe and aspire to do something as radical and transformative as they did in their times," says Badve. "Yes, even we designers need our own dose of motivation and inspiration! And I think leaders like these will guide us and future generations in understanding the context and delivering relevant and meaningful solutions. Sundberg-Ferar truly is inspired to push industrial design thinking beyond our perceived vision."