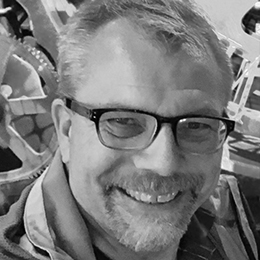 Brian Ebbinghaus, IDSA
Brian Ebbinghaus, IDSA is an international award-winning product, transportation and brand design specialist. Brian is a creative problem-solver who brings proven strategic management and interpersonal acumen to forward-thinking organizations. His experience contributes to innovation, vision and growth.
Over 30 years as teacher and mentor, he has inspired many young designers to greater achievements and fully understands that 'the journey' is as important an experience as positive results. As a long-standing IDSA member, Brian has participated in local, national and international conferences, symposiums and events, including back-to-back terms on the IDSA Education Advisory Committee and as a research paper adjudicator.
Brian currently heads up Industrial Design for a large global defense corporation. As the initiator of the ID Group, he has grown the team into a forceful entity, contributing to new ideas, financial growth and brand development. Brian's previous leadership roles, including Vice President – Design, R&D Director and Business Development Director with other companies, have produced similar, successful results.