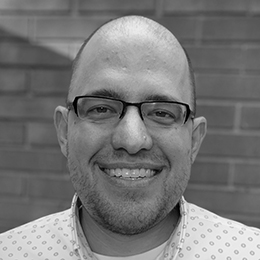 Aaron Kurth, IDSA
Chair, Design Research Section 
Aaron Kurth is a Lead Design Researcher whose work has spanned the product development spectrum, from generative and exploratory research, to co-creative workshop facilitation, to evaluative studies.
Like many in Design Research, Aaron began his career in a different industry. After beginning his career as a hybrid designer/engineer, Aaron studied Integrated Innovation at Carnegie Mellon University and began his full-time research career. During his career, Aaron has conducted Design Research in industries such as manufacturing, business to business products, financial systems, consumer products, telecommunications, healthcare and industrial systems. Aaron currently leads Design Research projects transforming the agent experience for a large telecommunications provider.
Aaron is also a trained LUMA Institute facilitator and has led workshops in many industries on both digital and physical mediums. He believes in borrowing and melding techniques from other fields such as Service Design, Anthropology, and Industrial Design to enhance his Design Research practice. Aaron is active in the Service Design community, participating and coaching in the DC Service Jam, organizing the Indy Service Jam (postponed due to COVID), actively participating in his local Service Design Network chapter, and presenting at Indy Design Week 2020.
Aaron holds a bachelor's in Biological Systems Engineering from the University of Wisconsin-Madison, bachelor's in Industrial Design from the University of Wisconsin-Stout, a certificate in Medical Device Development from the University of St. Thomas (St. Paul, MN) and a master's in Integrated Innovation for Products and Services from Carnegie Mellon University.