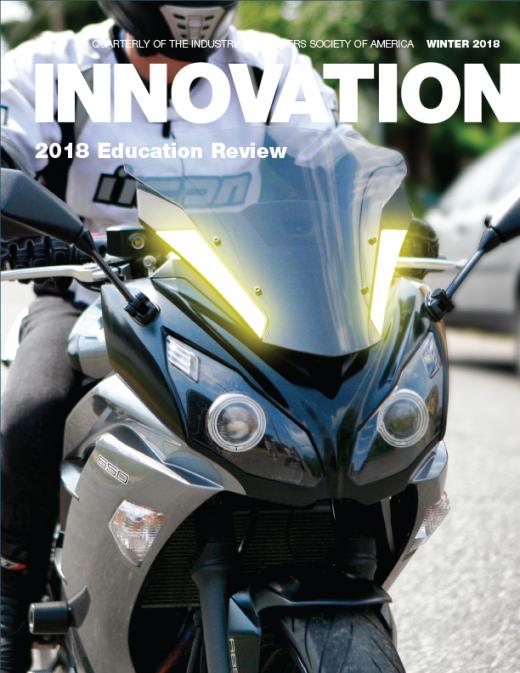 Welcome to INNOVATION, IDSA's quarterly and one of the best places to learn about the practice of industrial design. Every issue of INNOVATION reaches IDSA's membership, universities, associations, design consultancies and subscribers around the world.
Profiled in the Winter 2018 INNOVATION are the graduate and undergraduate winners of IDSA's Student Merit Awards.
If you are logged in as a member you will see a link to the digital version of INNOVATION to the right. Professional IDSA members receive a free copy of INNOVATION four times a year as part of their member benefits. Copies of past articles or full editions of can be ordered by calling 703.707.6000. Nonmembers can subscribe to the quarterly or become an IDSA member.
Here is the Table of Contents for the Winter 2018 issue. Those items highlighted in red are available to the public.
2018 Student Merit Award Winners
Best of the Best: Introduction by Raja Schaar, IDSA
Graduate SMA Winners
Central District Undergraduate SMA Winner
Central School-Based SMA Winners
Midwest District Undergraduate SMA Winner
Midwest School-Based SMA Winners
Northeast District Undergraduate SMA Winner
Northeast School-Based SMA Winners
South District Undergraduate SMA Winner
South School-Based SMA Winners
West District Undergraduate SMA Winner
West School-Based SMA Winners
Features
The Value of Lab-Engaged ID: Designing a Fog-Harvesting Harp by Brook Kennedy, co-authored by Dr. Jonathan Boreyko and Weiwei Shi (link to paper in its original entirety)
IDSA Education Honors
Scholarship Recipients
In Every Issue
IDSA HQ by Chris Livaudais, IDSA
From the Editor by Mark Dziersk, FIDSA
Book Review
Beautility by Tucker Viemeister, FIDSA
Design Defined by Kellie Walters, IDSA and Betsy Barnhart