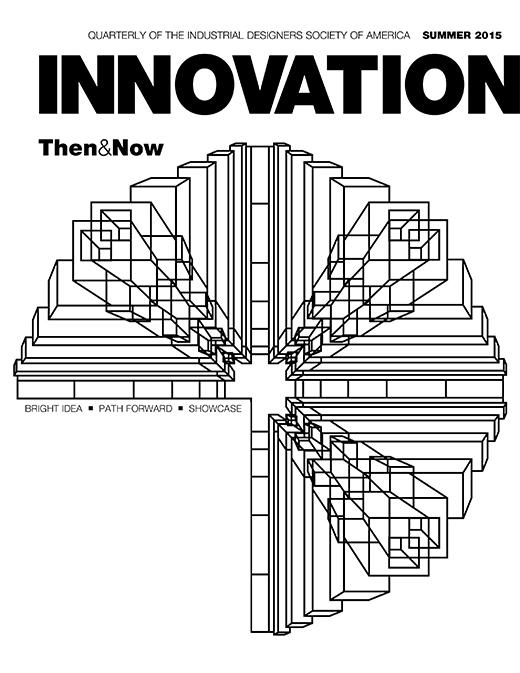 INNOVATION reviewed its archives and asked popular authors of the past to take a fresh look at their previously published articles and reflect on them with a new piece. This Then & Now Summer 2015 INNOVATION lets readers catch up with material they may have previously not read but with an updated twist.
If you are logged in as a member you will see a link to the digital version of INNOVATION to the right.
Professional IDSA members receive a free copy of INNOVATION four times a year as part of their member benefits. Copies of past articles or full editions of can be ordered by calling 703.707.6000 x118. Nonmembers can subscribe to the quarterly or become an IDSA member.
Here is the Table of Contents for the Summer 2015 issue. Articles highlighted in red are available to anyone as PDFs.
THEN & NOW
The Alarm/Clock/Radio: Case 12:30 by Budd Steinhilber, FIDSA
Anatomy of a Design Patent by Terry M. Gernstein
Design & Environmental Action original by Victor Papanek, IDSA, FSIAD; Reflection by Philip White, IDSA, LCACP
A Focus on 'What If?': How Design Is Changing Organizations original by ​Michael Westcott, IDSA; Reflection by Carole Bilson, IDSA
The Dynamics of Interdisciplinary Design: A Research Project by Allen Samuels, IDSA
Contexts of Achievement by Nancy J. Perkins, FIDSA
Market Value Innovation: Designing the Experience by Ronald J. Sears, PhD, IDSA
Designing With Corporate Goals in Mind by Cooper Woodring, FIDSA
FEATURES
Continuous Visual Conjoint: Discovering Novel Design Directions that Align with User Preferences by Seth Orsborn, PhD, IDSA; Jonathan Cagan, PhD, PE, IDSA; and Peter Boatwright, PhD
Designing Within the Four Corners of the Law by Michael Prince
IN EVERY ISSUE
Chair's Report by John Barratt, IDSA
IDSA HQ by Daniel Martinage, CAE
Letter to the Editor    
From the Editor by Mark Dziersk, FIDSA
Design Defined by Barry M. Katz
Beautility by Tucker Viemeister, FIDSA    
A Look Back by Carroll Gantz, FIDSA    
Showcase