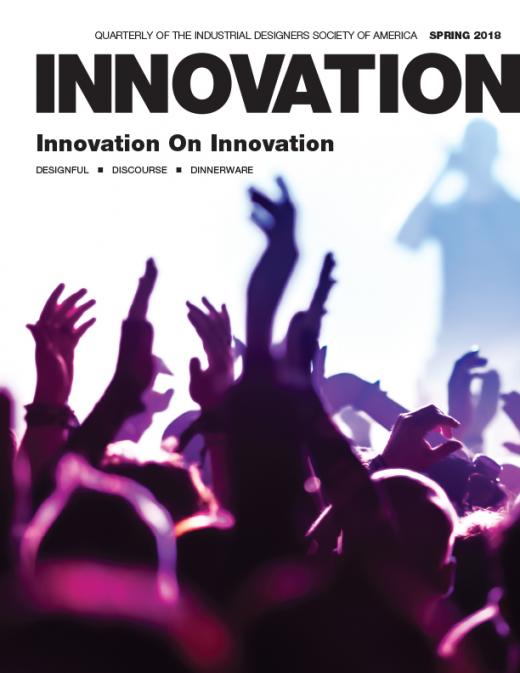 Welcome to INNOVATION, IDSA's quarterly and one of the best places to learn about the practice of industrial design. Every issue of INNOVATION reaches IDSA's membership, universities, associations, design consultancies and subscribers around the world.
In the Spring 2018 INNOVATION, Brian Roderman, FIDSA, explores Innovation on Innovation.
If you are logged in as a member you will see a link to the digital version of INNOVATION to the right. Professional IDSA members receive a free copy of INNOVATION four times a year as part of their member benefits. Copies of past articles or full editions of can be ordered by calling 703.707.6000. Nonmembers can subscribe to the quarterly or become an IDSA member.
Here is the Table of Contents for the Spring 2018 issue. Articles highlighted in red are available to anyone as PDFs.
Innovation On Innovation
Design in the Context of Innovation by Brian Roderman, FIDSA, Guest Editor
Crossing the Chasm by Brian Roderman, FIDSA, and Luke Jordan, IDSA
Innovation on a Wednesday Morning by Raleigh Gresham
Meeting the Mobility Demands of the Future by Todd Summe
Why It's Insights, Not Ideas, That Truly Drive Innovation: The Innovation Myth by Jonathan Dalton, IDSA
The Art of Collaboration by Luke Jordan, IDSA, and Kate Whitney, S/IDSA
Brainstorming Tools Begetting Brainstorming Tools by Daily Gist
The Experience Revolution by Brian Roderman, FIDSA, and Kate Whitney, S/IDSA
Features
IDSA Sketchbook sponsored by 3M
Dinnerware You Can Print: Dine with Design by Herb Velazquez, IDSA
In Every Issue
Chair's Report by Megan Neese, IDSA
IDSA HQ by Chris Livaudais, IDSA
From the Editor by Mark Dziersk, FIDSA
Design Defined by Scott Stropkay
Beautility by Tucker Viemeister, FIDSA    
A Look Back by Tsai Lu Liu, IDSA
Book Review by Mark Dziersk, FIDSA