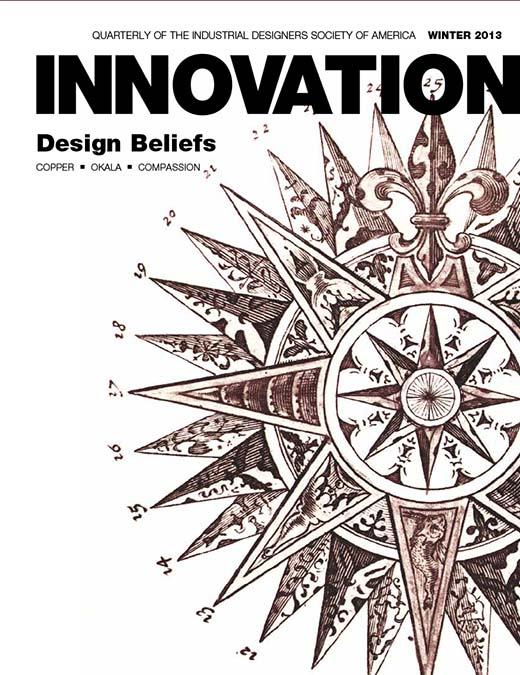 Welcome to INNOVATION, IDSA's quarterly and one of the best places to learn about the practice of industrial design. Every issue of INNOVATION reaches IDSA's membership, Fortune 500 companies, universities, associations, design consultancies and subscribers around the world.
The Winter 2013 INNOVATION is a remarkable exploration through some foundational tenet of design and ways that a new generation of design professionals are finding of incorporating them into their own evolving design philosophies and next career steps.
The issue's genesis lies in a conversation between INNOVATION executive Editor Mark Dziersk, FIDSA and guest editor Gretchen Gscheidle, IDSA, Director of Insight and Exploration at Herman Miller about Herman Miller's Ten Tenets of Design, including precepts that work be human centered, sustainable and spirited among other tenets. From there, this issue grew and evolved to incorporate include young professionals' take on their own guiding principles.
If you are logged in as a member you will see a link to the digital version of INNOVATION to the right.
Professional IDSA members receive a free copy of INNOVATION four times a year as part of their member benefits. Copies of past articles or full editions of can be ordered by calling 703.707.6000, x118. Nonmembers can subscribe to the quarterly or become an IDSA member.
Here is the Table of Contents for the 2013 Winter issue, guest edited by Gretchen Gscheidle of Herman Miller, that focuses on Design Beliefs. Articles highlighted in red are available to anyone as PDFs.
DESIGN BELIEFS
What Are Your Design Beliefs? by Gretchen Gscheidle, IDSA, Guest Editor
1. Human Centered by Jack Kelley, L/IDSA and Joe Schwartz; Jordan Bahler, IDSA
2. Purposeful by Gianfranco Zaccai, FIDSA; Hannah Duffy, IDSA
3. Integrity by Studio 7.5; Kevin Terwilliger, IDSA
4. Original by Don Chadwick; Jason Tropp
5. Apparent Quality by Andrea Nelson; Jon Langer
6. Sustainable by Matthew Stares; Travis Andren, IDSA
7. Beautiful & Useful by Yves Béhar, IDSA; Craig Mackiewicz, IDSA
8. Spirited by Steve Frykholm; Benjamin Bush, IDSA
9. Beyond Expectations by Tim Straker; Vijay Chakravarthy, IDSA
10. Inevitable by Laura Guido-Clark; Philippe Duvall
FEATURES 
Beautiful Ends, Extraordinary Means by Prasad Boradkar, IDSA 
This Will Really Burn You Up! by Byron Bloch, IDSA  
The Compassion Project: Using Empathy as a Means to Understand Design Thinking by John K Caruso, IDSA
IN EVERY ISSUE
IDSA HQ
From the Editor by Mark Dziersk, FIDSA
Business Concepts by Michael Westcott, IDSA  
Point Counterpoint  
Book Review by Scott Stropkay, IDSA 
Design Defined by Bill Lee 
A Look Back by Carroll Gantz, FIDSA 
Beautility by Tucker Viemeister, FIDSA 
Corrections 
Showcase
Signposts by Alistair Hamilton, IDSA