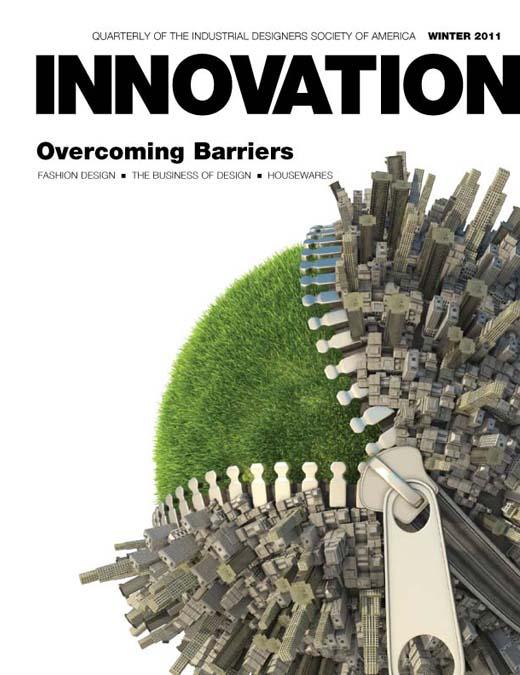 Ramsey Ford and Kate Hanisian
This issue, the Industrial Designers Society of America (IDSA) is doing something a little different by offering INNOVATION's entire Winter 2011 issue, Overcoming Barriers in digital form, gratis. If you would like a hard copy, you may go here to order one.
Much of the IDSA membership considers the hard copy version of Innovation that they receive each quarter their number one benefit of belonging to IDSA. INNOVATION is the only print magazine in the US that focuses on industrial design.
For the next issue, IDSA members and subscribers will receive their print copy as usual.
If you are logged in as a member you will see a link to the digital version of INNOVATION to the right.
Professional IDSA members receive a free copy of INNOVATION four times a year as part of their member benefits. Copies of past articles or full editions of can be ordered by calling 703.707.6000, x118. Nonmembers can subscribe to the quarterly or become an IDSA member.
Here is the table of contents for the Winter 2011 issue of INNOVATION. Articles highlighted in red are available to anyone as PDFs.
OVERCOMING BARRIERS
FEATURES
Think Like a Fashion Designer
by Valerie Jacobs
VBL Meet MSBL
by Mathieu Turpault, IDSA
IN EVERY ISSUE
From the Executive Editor
by Alistair Hamilton, IDSA
The Business of Design
by Gary Eisenkraft
Commentary
by Kathryn Holshouser, IDSA
Book Review
by Mark Dziersk, FIDSA
A Look Back
by Carroll Gantz, FIDSA
Showcase: Housewares