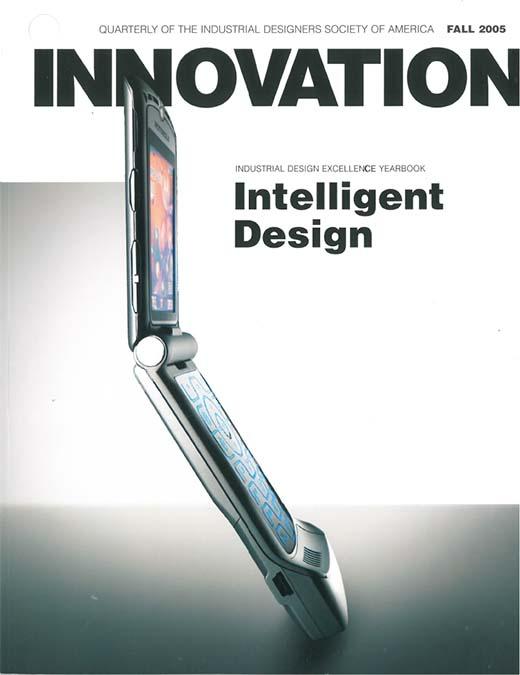 Yearbook of Design Excellence
Professional IDSA members receive a free copy of INNOVATION four times a year as part of their member benefits. Copies of past articles or full editions of can be ordered by calling 703.707.6000, x118. Nonmembers can subscribe to the quarterly or become an IDSA member.
Here is the table of contents for Fall 2005 issue of INNOVATION. Articles highlighted in red are available to anyone as PDFs.
YEARBOOK OF INDUSTRIAL DESIGN EXCELLENCE
Patrons of Industrial Design Excellence
From the Editor
Mark Dziersk, FIDSA, Executive Editor of Innovation
Letters to the Editor
Stand Up & Deliver
by Bruce Nussbaum, H/IDSA
IDSA National Conference Sponsor Thank You 
IDSA 2005 Winners Index
DESIGN & BUSINESS CATALYST AWARDS
INDUSTRIAL DESIGN EXCELLENCE AWARDS
BUSINESS & INDUSTRIAL EQUIPMENT
Terabeam 3200i Optical Transceiver Fiber-Optic Cable without the Cable
by Oliver Grabes, IDSA
TOPTURN X Self-Propelled Compost Turner Top of the Heap
by Gerhard Heufler
Nike ACG Search and Rescue CommVest Taking It to the Extreme
by Shane Kohatsu
Johnson Controls Global Sensor Line Cool!
by Fabio Di Liberto
COMPUTER EQUIPMENT
Mac mini Going Where Others Cannot
by Apple Computer, Inc.
Net Gear Platinum II A Net Gain
by Gadi Amit, IDSA
Wacom Intuos3 Design for Designers
by ZIBA Design, Inc.
CONSUMER PRODUCTS
STANLEY® FatMax™ A Hacksaw for Life
by Gary van Deursen, IDSA
The Motorola RAZR Thin Is In!
by Jim Wicks and James F. Caruso, IDSA
The SippySnacker™ Cup "Look Mom, No Spills!"
by Hugo Ecclues, IDSA
Nike Considered Boot Conscientous Footwear
by Nike, Inc.
QUALIA 016 Small, Fun and Sophisticated
by Marcy Cohen
iPod Shuffle Listen Up!
by Apple Computer, Inc.
Wetnoz Spring Roll A Fetching Idea
by Ashley Menger, IDSA
CafeSolo™Coffeemaker ImPRESSive!
by Claus Jensen and Henrick Holbaek
Eva Solo Barrel Grill A New Look for the Outdoor Cook
by Claus Jensen and Henrick Holbaek
byo lunchbag What's for Lunch?
story by Marc Gobé, I/IDSA
DESIGN EXPLORATIONS
SHIFT Concept Bicycle Goodbye Training Wheels
by Ryan Lightbody
Toshiba Transformer An Entertaining Laptop
by Amanda Bradshaw
Mitsubishi Eclipse E-Boost Concept Car Forecasting the Future
by Dan Sims, IDSA
IBM Audio Video Speech Recognition System Speak Quietly, I Can See You
by Camillo Sassano, IDSA and Robert Steinburgler, IDSA
Civic Exchange Beyond the Kiosk
by Antenna Design
The Food Experience A Feast for the Eyes
by Mario Gagnon, IDSA
DIGITAL MEDIA INTERFACES
Eastman Innovation Lab Putting Designers in the Driver's Seat
by Paul Stead
DESIGN STRATEGY
MINI_motion Strategy Innovation at Every Turn
by Amanda Bradshaw
ENVIRONMENTS
Ambient Experience Personalizing Healthcare, from Start to Finish
by Jeroen Raijmakers, Alex Tan and László Herczegh
9s07 Folding Safety Cone a.k.a. Mr. Twister
by Owen Slater, IDSA
Clinton Presidential Center The Era & Essence of a Presidency
by Ralph Appelbaum, IDSA
FURNITURE
Kohler Purist Hatbox Toilet High Fashion Meets Function
by Kohler Co.
MEDICAL & SCIENTIFIC EQUIPMENT 
GMP LifeSync System Without Wires
by Ellen Di Resta
VIOlight Toothbrush Sanitizer Minty Fresh & Germ Free
by Joel Pinsky
Embrace Heart Stabilizer Safer Surgery
by Charles Keane, IDSA
Niton XRF Analyzer Family What is That Stuff?
by Brian Matt, IDSA
PACKAGING & GRAPHICS
1-2 Paint Less Mess
by Ronald M. Lewerissa
RESEARCH
The Moen Revolution Showerhead A Shower Delight
by Harry West
STUDENT DESIGNS
Spotlight the music and touch the light Luminous Design
by Suk-woo Lee
MOTUS: Integrated Automotive Interior for Active Paraplegics Mobility for All
by Katherine Bennett, IDSA, Karen Hoffmann and T. Jon Mayer
I/O Brush Drawing from Nature
by Kimiko Ryokai and Stefan Marti
SILVER & BRONZE WINNERS
Business & Industrial Equipment
Computer Equipment
Consumer Products
Design Explorations
Digitial Media Interfaces
Design Strategy
Environmnets
Furniture
Medical & Scientific Equipment
Research
Packaging & Graphics
Student Design
Transportation
Advertisers in Fall '05 Innovation: