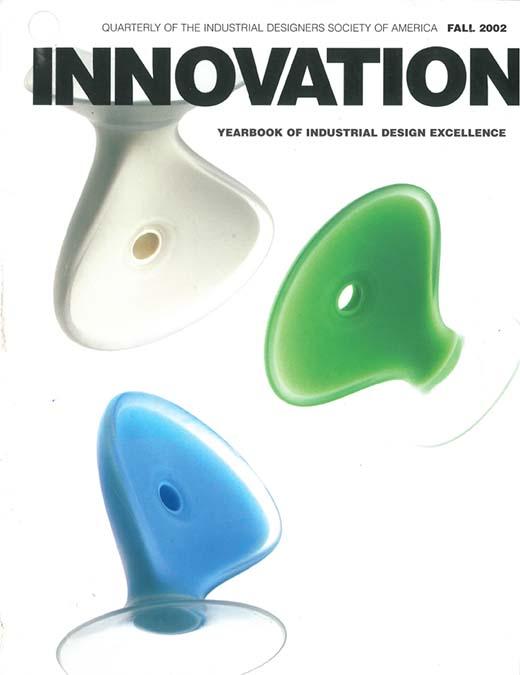 Yearbook of Design Excellence
Welcome to INNOVATION, IDSA's quarterly design journal and one of the best places to learn about the practice of design. Every issue of INNOVATION reaches the IDSA membership, the CEOs of Fortune 500 companies, universities, associations, design offices around the world and, of course, IDEA winners.
Professional IDSA members receive a free copy of INNOVATION four times a year as part of their member benefits. Copies of past articles or full editions of can be ordered by calling 703.707.6000, x118. 
Here is the table of contents for Fall 2002 issue of INNOVATION. Articles highlighted in red are available to anyone as PDFs.
YEARBOOK OF INDUSTRIAL DESIGN EXCELLENCE
From the Editor
by Kristina Goodrich
Thanks to IDSA Conference Suppporters
A Year Like No Other
by Bruce Nussbaum, H/IDSA
Patrtons of Industrial Design Excellence
The Design & Business Catalyst Award Good Design is Good Business
Aspect Medical Systems A-2000™ BIS® Monitor In and Beyond the Operating Room
by David Chastain, IDSA
IDEA2002 Raising the Bar
Silver + Bronze IDEA Winners
Index of Winners
Edges
GOLD IDEA WINNERS
BUSINESS + INDUSTRIAL EQUIPMENT
CDI Dial Wrench Precision Design
by Charles Davis, IDSA
New Holland CX Combine On the Cutting Edge
by Russell W. Strong, IDSA
Pingtel xpressa™ Phone Business Made Simple
by Daniel Cuffaro, IDSA
MegaSecur Water-Gate Barrier Stop It!
by Christian Bergeron
COMPUTER EQUIPMENT
Belkin OmniView SoHo Series KVM Take Control
by Ernesto Quinteros, IDSA and Mitchell Suckle, IDSA
Handspring Treo Technology That Fits Your Pocket
by Scott Underwood
iMac G4 It's all Here
by Apple Computer, Inc.
CONSUMER PRODUCTS
Chess Set Checkmate!
by Lydia Bjornlund
GE Profile Advantium™ 120 ATC Speedcook Oven Quck and Easy … and Tasty Too!
by Marc Hottenroth
iPod Play On!
by Apple Computer, Inc.
Malden Mills Polartec Heat® Blanket Feel the Heat
by Daniel Cuffaro, IDSA
MasterLock Titanium Series Padlocks A Lock on Good Design
by Maryann Finiw, IDSA
OXO Suction Cup Bathroom Accessories Veritcal Hold!
by Scott Henderson, IDSA
People PC Computer Accessories Functional Fashion
Yves Béhar, IDSA
Perfect Portions Just Right
by Wayne Marcus, IDSA
STX Ignitor Protection Gear Collection Play Ball!
by Priority Designs, Inc.
DESIGN EXPLORATIONS
Addressing the Realities of Disability
John Jay Miller, IDSA
Dilbert's Ultimate Cubicle At Home in the Office
by Scott Underwood
e-DMV Protecting Your Identity
by Mark Steiner, IDSA
Good Morning and Good Evening A Techno-Kitchen
by Rumi Lee
Family Doctor A Doctor in Every House
by Yongseok Bang
DIGITAL MEDIA + INTERFACES
Spyfish® SRTV User Interface Dive Right In!
by Anita Moryadas
ENVIRONMNETS
2002 Apple Retail Stores Apple Delight
by Apple Computer, Inc. and Eight Inc.
2002 MacWorld San Francisco Intuitive Interaction
by Apple Computer, Inc. and Eight Inc.
W5:whowhatwhenwherewhy An Oasis of Peace
by Lyn Wood, IDSA
FURNITURE
AkroClean Janitor Cart So Fresh & So Clean
by Randall Calmeise
The Cachet™ Chair Anatomy of a Design
by Peter Jon Pearce
KI Einstein® Classroom Furniture Back to School
by Barry W. Swanquist and Bryce G. Rutter, PH.D., IDSA
KOHLER sōk™ Deep Thinking
by Kohler Co.
MEDICAL + SCIENTIFIC PRODUCTS
IV House® Ultra Dressing A Little Less Ouch!
by Betty Rozierk, Lisa Vallino and Bryce G. Rutter, Ph.D., IDSA
PACKAGING + GRAPHICS
Odak Packaging A Beautiful Face
by Clifton Cannon
OXO Grind It Packaging Program Spice Advice
by Paul Hamburger and Nao Tamura
STUDENT DESIGNS
HOOF Shoe A New Way to Walk
by Henry Law
PediaPod Fit for a (Baby) King
by Brian Stonecipher, IDSA
TRANSPORTATION
2002 Ford Thunderbird A Living Legend
by Wayne Li, IDSA
Segway™ Human Transporter Empowering Pedestrians
by Scott Waters, IDSA and J. Douglas Field
Xootr eX3 Stepping Stone to an Upstream Market
by Gerard Furbershaw, IDSA