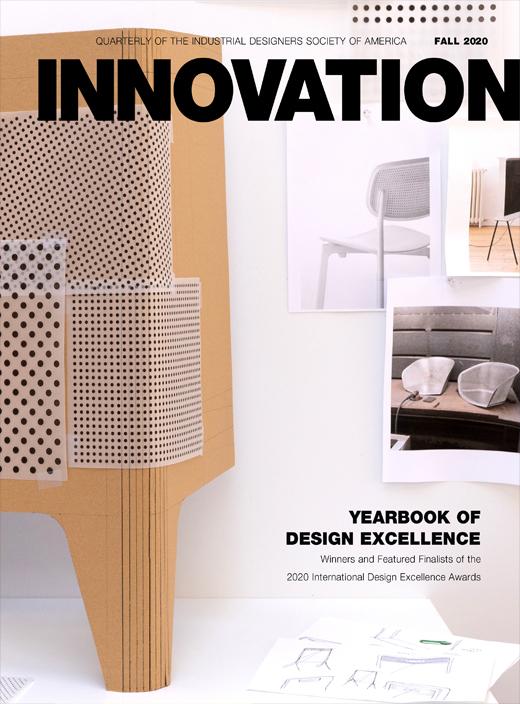 Yearbook of Design Excellence
The annual Yearbook of Design Excellence issue celebrates IDEA winners and featured finalists, as well as recipients of annual IDSA Awards.
This issue is filled with vibrant images featuring the Gold, Silver, and Bronze winners and featured finalists of the International Design Excellence Awards (IDEA) 2020. IDEA is one of the longest running and most prestigious design awards programs in existence. Originally founded to recognize exceptional achievement in industrial design, the program has since grown to highlight design in many connected disciplines, including design strategy, branding, digital interaction and so much more. 
IDEA Best in Show, Curator's Choice, Chair's Choice, and People's Choice winners are also highlighted.  
---
2020 Yearbook of Design Excellence:
2020 IDSA Honors, recipients of the 2020 IDSA Awards
IDEA 2020 Jury 
IDEA 2020 Winners 
IDEA 2020 Featured Finalists
Featured articles:
IDSA on TV by IDSA
Empowering a New Future by Don-Tae Lee, PhD
IDC 2020 Recap by IDSA
Designing for Equity by Jonah Becker, IDSA, IDEA 2020 Jury Chair
In every issue:
Letters to the Editor
IDSA HQ by Chris Livaudais, IDSA
Beautility by Tucker Viemeister, FIDSA
Design DNA by Scott Henderson, IDSA
Design Defined by Jessica Jean-Baptiste, IDSA
A Final Thought by Hector Silva with Dominic Montante
---
IDSA members will see a link to a digital version of the latest INNOVATION issues when logged in to the membership portal. Professional IDSA members based in the United States receive a free copy of INNOVATION four times a year as part of their member benefits. 
Copies of past articles or full editions can be ordered by calling 703.707.6000. Non-members can subscribe to the quarterly or become an IDSA member.