IDEA winners receive significant international publicity and exposure. In contrast to many other design awards, most of the associated perks of winning an IDEA are included with your entry fee. In addition to IDSA's and our partners' announcements of the IDEA winners, media around the world publicize the winners each year. IDSA's annual Yearbook of Design Excellence, featuring in-depth coverage of the IDEA Gold, Silver, Bronze, and Special Award winners and a complete listing of all Featured Finalists, is distributed to an international audience of design and business executives.
"Design awards, especially the esteemed IDEA, matter. They motivate design teams, boost client economics and help to reinforce a progressive design culture within our society."
—IDEA Gold Winner, Dan Harden, IDSA, Whipsaw
Exposure
IDEA partners with several international media outlets to expand the reach of our network and increase the public profile of your great honor.
2022 winners will be featured on the trendsetting design blog, LeManoosh.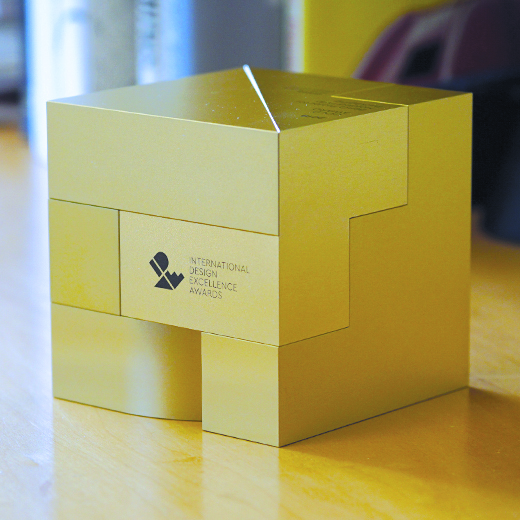 Prestige
Gold, Silver, Bronze, and Special Award winners receive the highly coveted IDEA trophy and commemorative certificate. Winners become icons within their industry and are eligible to leverage the IDEA mark on all product marketing.
About the IDEA Trophy
The current IDEA trophy was introduced in 2018 and accompanied a complete rebrand launch of the program. The trophy is a lasting physical symbol of winning our distinct honors, but it also represents so much more.
The trophy is a puzzle made up of the letters I - D - E - A which attach to a central core with magnets. These individual pieces represent the physical, visual, digital, and experiential disciplines we all work within, and they combine to illustrate how a successful design is much more than styling or a novel idea alone. It is the effective combination of many different aspects to create something greater than its parts.  
Each IDEA trophy begins life as a solid block of aluminum which is precision CNC milled into the individual letters of I - D - E - A. These pieces are then anodized to reveal a brilliant spectrum of color for the various levels of awards. Pictured here is the Best in Show Award which is a collage of all trophy colors. 
Primary Awards: Gold, Silver, Bronze
Special Awards: Dark Blue - Chair's Award, Light Blue - Curator's Choice, Red - People's Choice, Best in Show - Multicolor