IDSA's inaugural Getting It Made Deep Dive, held March 17-18, zeroed in on the crucial steps and top tips from experts on how to take a product design from concept through production and into the marketplace. 
More than 450 attendees from 17 countries—including Puerto Rico, Brazil, Spain, Canada, the Netherlands, China, Germany, the United Kingdom, Austria, Sweden, India, Ecuador, Italy, Israel, the United Arab Emirates, Australia, and the United States—joined in for two days of practical, entertaining, and industrial design-focused content. Additionally, 16 design students were able to attend this event for free as a result of donations to the Design Foundation's DEI Event Access Program. 
The event was co-emceed by the highly regarded US-based designers Michael DiTullo, IDSA, founder and chief creative of Michael DiTullo, LLC, and Moni Wolf, Principal Designer of ODSP, Project Cortex at Microsoft. Together with IDSA Staff and the event content planning team, they assembled a roster of presenters representing multiple sectors and areas of expertise, from the design of furniture to electric vehicles to toys, home goods, and much more, and from CMF designers to in-house product developers to start-up founders.
"When we started putting together the speaker list for this event, we talked about having a broad range of experiences, from corporate to consultant to independent, from high-volume mass production to low-volume craft to one-offs. I'm so proud to see it all come together."  – Michael DiTullo, IDSA
For about four hours each day, GIMDD 2021 attendees engaged in a mix of comprehensive keynote presentations, breakout sessions, and opportunities to network, with a virtual Happy Hour on Wednesday and a Deep Dive Cafe on Thursday. A lucky winner on each day also received a $500 gift voucher from Stratasys to use for printing a 3D model.
Tap the GIMDD 2021 circle on IDSA's Instagram page to view some highlights from the virtual event:
Day 1 - Wednesday, March 17
The first day of GIMDD 2021 began with three keynote presentations. The first was "Designing for Non-Humans" by Katie Lim, Director of Industrial Design for the Super Chewer brand at BARK. With some adorable examples of dogs testing out her designs, Katie shared the stages of her process, along with factory insights and manufacturing considerations for hard and soft goods used in the toy industry. The second was "Straw Connections," from Kirk Morris, IDSA, Design Manager at Bradshaw Home. With fascinating insights, Kirk explored different stages of the industrial design process through his extensive experience in developing home goods and by drawing parallels to notable trends in drinking straws over the past decade. The third keynote was "Everything Is Connected" from Beatrice Santiccioli, founder of Beatrice Santiccioli Design Inc. Having worked on iconic campaigns for Apple and Herman Miller throughout her career as a CMF, graphic design, and color branding expert, Beatrice showed how her unique design methodology grows within a rich and connected process that encompasses vision, design, and production.
The breakout sessions on Day 1 included the workshop "Getting Ideas Out of Your Head and Into the World" by Craighton Berman, founder and creative director of the Chicago-based startup Manual; a discussion on "Techno-Craft" with co-presenters Bradley Bowers, Design Director at Bradley L. Bowers, and Evan Stolatis, Fabricator at Evan Stolatis Fabrication, LLC; and the how-to session "From Render to Reality," a Stratasys-sponsored breakout with Barry Diener, Yariv Sade, and Colton Mehlhoff.
Before the 5pm Happy Hour, a compendious keynote from Y Studios founder and CEO Wai-Loong Lim, titled, "It Takes a Global Village: Bringing Hardware to Life,"  transitioned into a lively roundtable discussion and Q&A with all of the Day 1 presenters.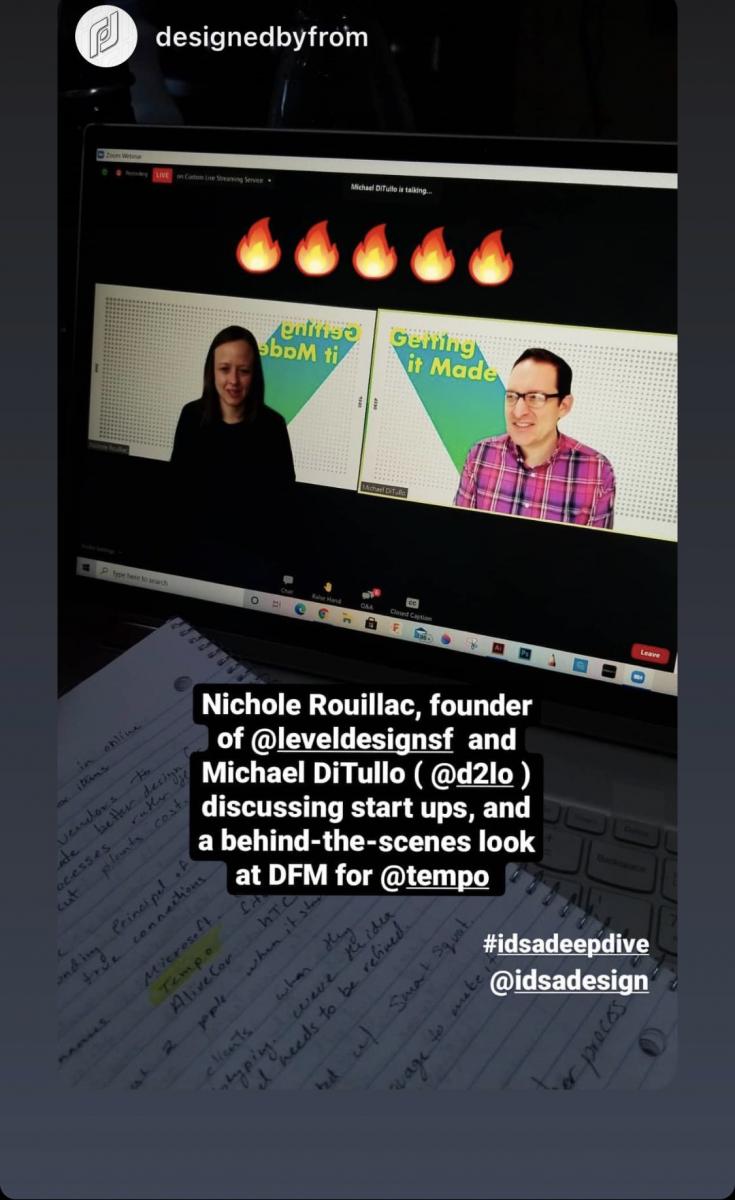 Day 2 - Thursday, March 18
The second and final day of the virtual conference began with a keynote from Sue Magnusson, Creative Director of CMF at Lucid Motors. Her presentation, "Marrying Tradition and Innovation in CMF," revealed how she and the Lucid design team deliberately started from scratch, and from a CMF perspective, to build a minimalist electric vehicle with California soul and a human-centered "Heart and Mind" philosophy. The next keynote from Gavin Rea, Product Designer at Kiwico, dove into the nuts-and-bolts involved in working on an in-house design team, creating and producing toy kits for kids. In his detailed presentation "Zero to Woah, Awesome," Gavin walked through the process step-by-step, showing problems he's encountered and offering tips and tricks along the way. Then Nichole Rouillac, IDSA, creative director and founder of level design sf, presented on "Shipping Success: Designing Start-ups from Vision to Impact." In this thorough keynote, Nichole shared the behind-the-scenes story of making Tempo, an award-winning home gym design, with an inside look at how the design intent was translated through manufacturing.
In addition to a Cafe networking breakout room, the Day 2 breakout sessions were: "Technical Soft Goods: Design through Refine" with Greg Bass, Co-founder of Telegraph Studio, and "999 Ways to Kill a Good Idea" with Tom Keegan, IDSA, Program Manager at Tact Product Development.
Before the rousing Day 2 roundtable and Q&A, the superb keynote, "Paths to Production," from contract furniture designers Alyssa Coletti and Kevin Stark, dove into the revision, review, and rework processes that occur during development to refine and optimize a product for release. Among many other questions posed and answered throughout the event, Alyssa and Kevin asked, "What groundwork should be done to convince a manufacturer to choose and embrace your work?"
---
The GIMDD 2021 attendees really enjoyed the experience:
Monica Welcker, attendee: "One of the most relevant conferences I've been to! Thank you, Industrial Designers Society of America!"
Heather Blaikie, attendee: "IDSA's Getting It Made Deep Dive was more than time well spent! I appreciated how much real world, behind the scenes, nitty-gritty was shared. Not just shiny end products. It was a great way to connect with fellow designers, while picking up some tips, tricks, and expert advice."
Kim Depole, attendee: "Getting It Made seminar was amazing. So inspirational to connect to this special community for two days."
John Lai, IDSA, attendee: "Great sessions and great format for accessibility to the content. Nice to have breakouts and a happy hour for networking."
Donald Burlock, IDSA, attendee: "Fantastic, holistic, and inspiring presentations and workshops!"
Jesse Carlin, attendee: "I'm really amazed at how well designed this event was! Thank you, IDSA and everyone!"
---
Thanks to our event supporters: