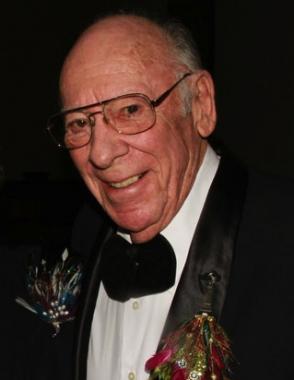 Mort Blumenfeld, FIDSA
(1919 - 2011)
IDSA Vice President :1975–1977
Inducted into the Academy of Fellows: 1976
US industrial designer and educator, born in Norfolk, VA who studied at the Philadelphia College of Art from 1937 to 1940, and received a certificate in industrial design from Pratt Institute in 1941. He served as a pilot in the US Army Air Force as a major from 1941 to 1945. He began his career with Norman Bel Geddes Inc., in New York City from 1946 to 1947 and worked for Raymond Spilman from 1947 to 1948. In 1948, he worked briefly in the store planning department of J.C. Penney and with Francis Blod Design Associates from 1948 until 1952, when he joined the Rohm & Haas Company in Philadelphia as manager of the industrial design plastics marketing development group until 1969. From 1969 he was a self-employed industrial design consultant, specializing in medical and scientific instruments.
As an educator, he was a seminar instructor and on the adjunct faculty of the Rhode Island School of Design from 1970 to 1980, associate professor at Pratt Institute from 1970 to 1983, and seminar instructor and conference coordinator for New York University from 1972 to 1975. Beginning in 1975, he authored articles about plastics applications, instrument design, lighting and served as contributing editor of Industrial Design magazine.
He received a bachelor's in industrial design from Pratt Institute in 1976. From 1978 he was an instructor in plastics seminars for the Society of Plastics Engineers (SPE) and for IDSA. An active member of IDSA, he was national vice president from 1975 to 1977 and was awarded Fellowship in 1976. He was also a senior member of the SPE. He retired to San Diego, CA.
Blumfield died on June 11, 2011, just a few days after his 92nd birthday. At the time of his death, he was out and about with his wife of 67 years, Elaine, doing their weekly shopping at the market near their current residence in Sun City, CA. He passed away mid-stride outside the market.