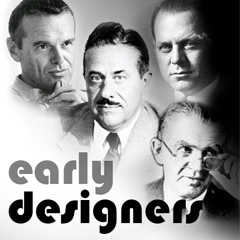 1994 Joseph Koncelik, IDSA
Professor Emeritus, Department of Industrial, Interior and Visual Communication Design, College of the Arts, The Ohio State University; Retired Professor of Industrial Design, College of Architecture, Georgia Institute of Technology; Formerly: Director, Center for Assistive Technology and Environmental Access and Professor of Industrial Design, College of Architecture, Interim Director, Advanced Wood Products Laboratory, 1995-2001, Georgia Institute of Technology.
Education: Bachelor of Industrial Design, Pratt Institute,1962, General Motors Scholarship 1961 and 1962; Master of Arts, Stanford University, 1963, Harley J. Earl Scholarship in 1962/63; post graduate research, Royal College of Art, Great Britain 1965/66, Fulbright/Hays Scholarship in 1965 and 1966;
Professor of Industrial Design, The Ohio State University from 1973 to 1995 and Vice President for Research and Development, Zoetech Corporation from 1990 to 1995; Assistant Professor, Department of Design and Environmental Analysis, Cornell University from 1966 to 1973, President, Design and Research Services, Inc., 1978 to 1983; author of 74 publications including two books: Designing the Open Nursing Home in 1976 and Aging and the Product Environment in 1983 covering research and design development related to issues in gerontology.
Koncelik is the recipient of the IBD Silver Medal in 1980, Designer's Choice Award in 1981, NEA Grants Recognition in 1980, and the NEA Outstanding Research in Design Award in 1983. His conference series: "Technology and Aging" won both regional and national continuing education awards for creative excellence in 1988 and 1989. Koncelik is listed in the Who's Who in the Midwest since 1979, in the Directory of International Biographies and the International Who's Who in American Education since 1983. Koncelik has been listed in the Who's Who in America since 1989. He was appointed a Faculty Fellow in the Office of Geriatrics/Gerontology in the College of Medicine at Ohio State University in 1989. He has served as the Chair of the IDSA/NASAD Liaison Committee from 1988 to 1991 and has also served as an Accreditation Evaluator, Design Education Consultant and as a Commissioner on the Board of Commissioners for the National Association of Schools of Art and Design. In the summer of 1994, Koncelik was honored by the Industrial Designers Society of America with the presentation of their National Education Award and in 2001, he was presented with the Outstanding Research Award by the College of Architecture at the Georgia Institute of Technology.