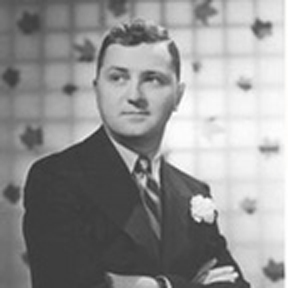 Edward J. Wormley, FIDSA
(1907-1995)
Inducted into the Academy of Fellows: 1965
U.S. designer of contemporary furniture in the 1950s and 1960s. He studied at the Art Institute of Chicago in the 1920s before specializing in furniture design in the 1930s, when he began a long-lasting relationship with the Dunbar furniture company of Berne, Ind. After World War Two, Wormley set up a private practice in interior and furniture design with Dunbar as his primary client. He used wood and upholstery in a tailored way that seemed comfortable to an audience not totally ready for the austerity of International Style design.
Wormley often called his designs transitional, and he did no hesitate to use forms as those of the ancient Greek klismos chair. His Dunbar furniture was included in a number of "Good Design" exhibitions at the Museum of Modern Art, N.Y. He was president of the American Designers Institute in 1941 (ADI in 1951 became the Industrial Designers Institute—IDI) and Wormley was awarded IDI Fellowship, which was honored by IDSA when it was formed in 1965 by IDI and other organizations.
Quotes by Wormley: "Furniture is needed for practical reasons, and because it must be there, it may as well be as pleasant as possible to look at, and in a less definable psychological way, comforting to the spirit." "Modernism means freedom—freedom to mix, to choose, to change, to embrace the new but to hold fast to what is good."