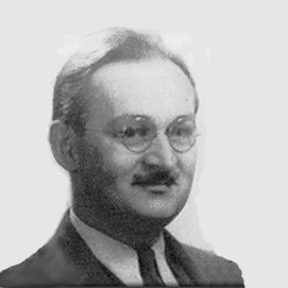 Clyde F. Shuler, FIDSA
(1892-1969)
Inducted into the Academy of Fellows: 1965
U.S. architect, industrial designer and design educator, was born in Pottstown, Pa., and graduated from Pottstown High School in 1910. Most of his design education was gained at the Pennsylvania Museum and School of Industrial Art. He earned a certificate in industrial drawing in 1911, a second for interior decoration in 1913; and finally in 1921 he earned his diploma in interior decoration. In that same year he and William Heyl Thompson designed alterations for three houses on Cypress Street in Philadelphia.
Early in his career he was also employed by Price & McLanahan and then by Ralph Bencker. For Bencker he worked as chief designer for the N.W. Ayer Building, Rittenhouse Plaza, Horn & Hardart Building, and for the Pennsylvania Building at the Sesquicentennial Exposition held in Philadelphia in 1926. By 1930, Philadelphia city directories note that Shuler & Gurney occupy an office at 123 South Broad Street (room 1132). This partnership would design alterations to the State Theatre, originally a Bencker design (52nd Street and Chester Avenue, 1928). Later Shuler established Clyde Shuler Associates, with offices at 1717 Sansom. In this practice the emphasis was on domestic architecture, with Shuler designing the residence of Boris Koutzen in Chappaqua, N.Y., 1940, while maintaining his hand in interiors and commercial design and creating the Robert Dooner Studio at 1724 Chestnut Street. By 1961, Shuler was a partner in the office of his old friend William Heyl Thompson.
By 1933, however, Shuler was also a member of the faculty of the Philadelphia College of Art, where he would remain until 1952, serving as director of the Industrial Design Department from 1944 to 1952. Somewhat more is known of Shuler's design activities. He was the designer for the famous Philco 71/91 "cathedral" radio and also designed the later Philco 66MB "tombstone" style, but even these achievements cannot describe the variety and scope of Shuler's design work. Toasters, children's wagons, battery chargers, gas pumps, all poured from his fertile design imagination. Furthermore, his involvement with theatre produced plays, along with the design of costumes and sets. In addition, he was a sculptor of some repute and designed and carved puppets.
Shuler received his architectural registration for the State of Pennsylvania in January 1930. He was also a member of Delta Sigma Nu, a professional industrial design fraternity, and of the Industrial Designers Institute and the Industrial Designers Society of America. He received Fellowship in IDI, which was honored by IDSA when it formed in 1965.
Clubs and Membership Organizations
Pennsylvania Society of Architects
Philadelphia Art Alliance
Philadelphia Chapter, AIA
Philadelphia Sketch Club
American Institute of Architects (AIA)
Historical Society of Pennsylvania (HSP)
Delta Sigma Nu
Industrial Designers Institute
Industrial Designers Society of America