Continuing our series on five standout IDSA Professional Chapters in 2019, we're recognizing the IDSA Ohio – Central chapter for their impressive work this year.
IDSA OHC includes members across dozens of companies in Columbus, OH and the surrounding areas, as well as in schools such as The Ohio State University (OSU) and Columbus College of Art and Design (CCAD). The chapter pledges "to serve the networking, career development and professional development needs of industrial designers in the Columbus area," while also supporting the local student chapters. Earlier this year, the chapter held an IDSA Student Merit Award Election Night involving three universities, and a Senior Thesis Professional Night for ID students at OSU.
In 2018, the Central Ohio Chapter hosted their inaugural Taboo Schmaboo, a day geared at uncovering how design is breaking down social stigmas and barriers. The event was so successful that it will return in 2019, on Saturday, Nov. 2 at Hopewell Works in Columbus. Tickets, lineup, agenda and more information are available here. Follow IDSA OHC on Facebook and Instagram for updates.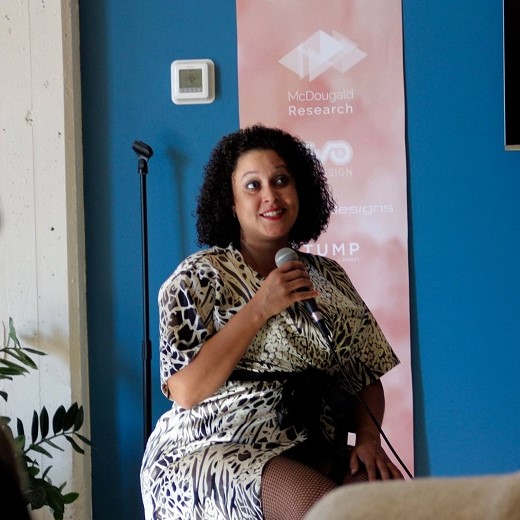 We asked IDSA OHC Chapter Chair Cori Rowley, IDSA to share how she, treasurer Monica Tournoux, IDSA and their chapter gave back to their community in 2019. 
What did your chapter accomplish this year, and how did you do it?
In 2019, our focus has been on Taboo Schmaboo 2.0: the sequel to our first event, highlighting different ways that design is breaking down social stigmas.
We spent the first half of our year focused on our academic partners in the area. We are lucky to have three ID bachelor's programs in the area, and our chapter has a history of supporting our students with SMA, mentoring and outreach.
Beyond supporting our collegiate members, we supported Camp Architecture via recruiting volunteers to support their summer camp efforts. Camp Architecture is run by the Columbus Center for Architecture and Design and introduces elementary through high school-age campers to the field of architecture and related design industries.
Over the summer, we hosted a happy hour for our members at Lincoln Social Rooftop.
Why do you think you succeeded? Did you do anything differently?
We have succeeded because we've chosen to focus on the areas that don't get much attention. Our intention is to bring focus tp the areas of design that need more help, outside of the flashy renders and animations. We have chosen topics that point to real issues for a lot of people. From menstruation to adult incontinence, design is being used to break down stigmas and restore confidence by creating solutions that are not only functional but beautiful as well.
Tell us about you chapter. What makes it special?
Our chapter is unique in that our leadership members work together in their day jobs. The ability to be close allows for more spontaneous conversations and brainstorms to happen.
What are your short-term and long-term chapter goals?
Expand what IDSA membership looks like in Columbus and the surrounding areas. We are interested in developing mentorship opportunities for students as a roll-out, then following with young professionals. Our hope is that this will be a driver for entry-level designers to join and stay connected with IDSA throughout their careers.
We're also trying to create smaller pop-up events that are in line with our member demographics that we have found difficult to reach. While we consistently get our recent grads and students to attend events, it becomes harder to get those who travel or have families to fit a weekday event into their schedule. We will be introducing a couple of Family Fun events this autumn/winter that we hope will meet this need in our local IDSA community.
What are you looking forward to?
We are looking forward to neighboring chapters visiting Columbus for events like Taboo Schmaboo, and creating more connection opportunities for our members. Our city has a beautiful, thriving creative community that we are excited to share!