This year, IDSA's professional chapter network faced extraordinary challenges. The COVID-19 pandemic forced chapters to step out of their traditional role as hosts of in-person events, and to reinvent themselves as facilitators of virtual opportunities that provide engaging experiences for their communities and the public. Despite these challenges, they succeeded by leaps and bounds. 
Since the pandemic, chapters have hosted virtual design discussions, portfolio reviews, weekly online series, guest speakers and panelists, online workshops, and tutorials. The virtual opportunity also has given voice to chapters that have been less active in previous years. With the tragic events from this summer and the development of IDSA's Diversity, Equity, and Inclusion Council (DEIC), chapters are also starting to address DEI issues.  
Following our recognition of 20 outstanding IDSA members in 2020, IDSA Staff is proud to honor chapters that have flexed their creative muscles to produce meaningful opportunities and experiences during this challenging year. 
Don't forget to sign up for the multi-chapter Pantone Party virtual event on January 14, 2021! Learn more and register HERE.
Note: Photos of in-person gatherings were taken prior to mid-March 2020.
---
IDSA-Northern Lakes (IDSA-NL) began 2020 with a new Chair, Lauren Dern, IDSA, and tons of energy and ideas from the dedicated chapter board. They started the year with some small in-person gatherings and by winning IDSA's National ID Day 2020 competition on March 5.
IDSA-NL's final in-person event of 2020 was cancelled due to a shooting at Molson Coors Brewery in Milwaukee, WI, followed by pandemic lockdowns and, on Memorial Day, the murder of George Floyd by police officers in Minneapolis, MN. The chapter's response was to continue holding small and large-scale virtual events and to speak up on their growing social media channels about the horrors of racial injustice and other inequities in the design industry and in society. Some of these larger events included Racial Barriers & Breakthroughs and Women in Industrial Design: Generations. Over the course of the year, IDSA-NL has attracted 300+ participants to their excellent virtual experiences.
IDSA-Austin (IDSA-ATX) was the first IDSA professional chapter to be renamed in accordance with the 2020 IDSA City-based Chapter Initiative, changing from IDSA-Texas. For the new team, it was their first time working together on a leadership board, and they were excited to kick off activities for their engaged ID community. They hosted their first in-person event on National ID Day at the University of Texas at Austin by helping to kick off and see the start of the university's first student IDSA chapter.
When the pandemic hit, a number of IDSA-ATX members partnered with local organizations to assist in the early COVID-19 PPE development response. IDSA-ATX grew the chapter leadership team by adding two additional roles, Communications Lead for Ronal Infante, IDSA and Events Lead for Erica Negron, IDSA. They also collaborated with IDSA-Atlanta on virtual events and, over the summer, hosted a series of virtual student portfolio reviews. 
IDSA-ATX listened and then started the work needed to address the inequities that permeate the ID profession and industries by hosting DEI workshops and getting involved with the IDSA's DEIC. In November, the chapter hosted an Austin Design Week workshop to share industrial design brainstorming tools with the greater Austin design community, and they're wrapping up the year with a virtual December Design Contest.
Last but certainly not least, IDSA-ATX Vice Chair Christy Sepulvada, IDSA welcomed her daughter ("certain future IDSA member and for sure design superstar," says Chair Kyle Ellison, IDSA) into the world. Congratulations, Christy!
IDSA-Dallas-Fort Worth (IDSA-DFW) was officially established on September 1, 2020 and hit the ground running with a robust leadership team, immediately launching a virtual event to introduce the DFW design community to the new chapter network. According to Chair David Patton, IDSA, the chapter has many exciting plans for 2021. First, IDSA-DFW plans to sponsor continued education for working professionals and act as a hub for employment and networking opportunities. They also intend to provide ongoing support to local high schools with innovation programs. "With our help, two high school graduates chose industrial design and enrolled in programs last year, with a third student just finishing their first semester now," David says.
In higher education, the chapter will continue to partner with engineering schools and support new design programs at Southern Methodist University (SMU). Finally, they plan to emphasize B2B partnerships across industries, as they believe creating alliances among firms, manufacturers, museums, and schools will increase the chapter's ability to add value to the DFW community. They will also continue to look for opportunities to support the battle against COVID-19.
"To meet our goals during the pandemic, we will be looking at creative ways to add value." David says. "Live virtual events are a given, but we will also look at live location streaming or recordings in specific venues. The team we have in DFW is strong and diverse in experience, background, and expertise. Our belief in each other will make 2021 an incredible year for design in this metroplex."
IDSA-Atlanta (IDSA-ATL) began the year with in-person meetups and helping with the 2020 IDSA Student Merit Awards program at Georgia Tech. They were planning for their signature Southern Design Summit at Georgia Tech to happen in late March 2020, but sadly had to cancel the event due to COVID-19. Instead, IDSA-ATL pivoted to hosting virtual events. They were the first chapter to engage in virtual cross-chapter collaboration, hosting an early virtual event with the newly formed IDSA-ATX. They also were the first to experience Zoom-bombing during this event, from which both chapters gracefully recovered. The incident led to IDSA providing resources to prevent these hacks from reoccuring.
Along with ATX, ATL shared best practices for virtual chapter collaborations with the entire chapter network during IDSA's Q2 Big Team Meetup. Most recently, ATX hosted a Zoom event with the entrepreneurs behind Elf on the Shelf that included a donation drive to Toys for Tots. 
The three IDSA Ohio chapters also serve as a model for successful chapter collaborations. The chapters used Slack and Miro to share resources and work together at a distance, and each produced stellar virtual programming for their own local communities in 2020.
In September, the Ohio chapters co-hosted the virtual event Blurred Lines to explore the intersection of ID, UX, and UI. The event provided access to design professionals' insights and learnings with three great speakers (Gen Goodwin, Nick Ross, and Jon Lau) and nearly 200 attendees.
IDSA-Columbus (IDSA-COL) was slated to be the chapter that would host IDSA's annual Women in Design Deep Dive event in Columbus, OH in 2020, but the pandemic shifted the Deep Dive from April to October, and from an in-person gathering to a virtual one. IDSA-COL Chair Monica Tournoux, IDSA co-hosted the event with Cori Rowley, IDSA, and the chapter was instrumental in finding many fantastic local speakers and making the event a success. Besides a Design Trivia Night on National ID Day, most of IDSA-COL's programming was virtual this year, but nonetheless absorbing. In late October, Monica and Vice Chair Romina Barrera Enciso, IDSA co-hosted the third edition of the chapter's annual Taboo Schmaboo event, with sketchnoting by Tiffany Do, Oscar Garcia, and Katie Kurz (pictured) and a strong lineup of diverse speakers discussing taboo topics.
IDSA-Cleveland (IDSA-CLE) held their last in-person event of 2020 on National ID Day, March 5. However, the chapter continued to support their local student community by hosting the virtual Cleveland Institute of Art Spring Design Show in April. With a renewed social media presence, the chapter also is currently hosting a virtual Happy HolIDaze Bingo, happening now through Dec. 31, 2020. Participants from across the country are invited to join for free before Dec. 27 to take full advantage of the fun design activities and the chance to win prizes. One of the activities is to do a good deed this holiday season, with the suggestion of donating to IDSA's Design Foundation.
IDSA-Cincinnnati (IDSA-CIN) held their first and last in-person event of 2020 in February for the IDSA Student Merit Awards, with traditional SMA presentations followed by a barhop. After lockdowns, IDSA-CIN dove into organizing the first virtual version of DAAPworks, the University of Cincinnati department of Design, Architecture, Art, and Planning (DAAP)'s multi-disciplinary senior show.
Traditonally hosted in an in-person gallery setting, with live jurying and awards given by IDSA to the top three students, the new DAAPworks format featured 20 jurors from across the country reviewing the students' work, which could not have happened in-person. The organizers used Behance as the online platform for hosting and sharing student work. This not only allowed for a much larger platform for their work but also had the bonus of eliciting feedback from professionals nationwide. According to IDSA-CIN Chair Caterina Rizzoni, IDSA, the event was a great success. Students loved the format and asked for it to continue next year.
DAAPworks 2020 attracted 60+ virtual attendees, including many industry professionals. Said DAAP student Alexis Begnoche, "It meant a lot to me to have my hard work on this project be recognized. I have never really considered myself to be a traditional industrial designer, and this project has grown to mean a lot to me personally over the last year, so to be given this award is an honor." Said participating ID professional Fed Rios, "This group of graduating designers is amazingly talented and I feel honored to have access to their capstone projects."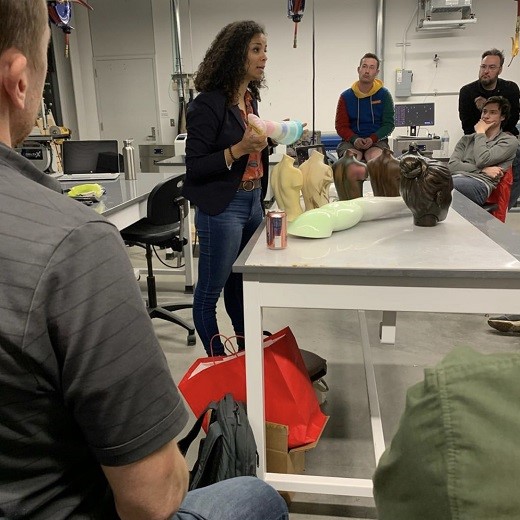 IDSA-Denver (IDSA-DEN) also produced strong virtual programming in 2020. As one of the largest chapters in the IDSA network in terms of the broad region they cover, the new chapter board blossomed since their in-person event on National ID Day 2020 and continued the momentum with virtual events. "We contacted other chapters on their approach to creating events," says IDSA-DEN Chair Josh Hoffeld, IDSA. "We first set out to create a series of online educational webinars to reach out to local ID students and professionals. After a brief break, we set our sights on the more important topics that are facing ID, such as diversity and local social issues. We plan to continue these series into 2021."
According to Vice Chair Trent Garner, IDSA, an early desire to create compelling in-person events changed with COVID-19 to a focus on how to keep their local community connected and motivated during a pandemic. "We were really concerned with the designers in our chapter and we wanted to build a sense of community and camaraderie," Trent says. "Some of our fellow designers had lost jobs and were having difficulty finding jobs."
The chapter board decided to go back to basics and create a series of skill-based learning events from April to June 2020 that gave the community a place to be and learn from once a week. Topics ranged from design research, sketching, and CAD to UI, emotional intelligence, and how to get a project funded on Kickstarter. "It was educational and inspirational to hear from designers in the community and learn from them," Trent says. As for being a member of IDSA-DEN, "We have a great team and I loved working with them. I have learned that we all have something that we can share and contribute and that designers love to learn. It's nice to have a time to get together outside of work to talk about design issues or just chat about inspirational design." And: "It feels good to do something for our community."
IDSA-Central New York (IDSA-CNY) kicked off 2020 with a new chapter board, going from one to three chapter officers, and found their strength in remote programming. Throughout this turbulent year, IDSA-CNY's new leadership team has worked collectively to form a solid foundation that has created steady programming through the late summer and into December 2020. "Much like any design challenge, I learned that resilience, resourcefulness, and the ability to adapt to circumstances plays an important role in success," says IDSA-CNY Chair Greg Smiley, IDSA. "Personal connection and teamwork are as important as what new technology enables."
The chapter's fall series of virtual events included talks on CMF trends, AR from Concept to Immersive Commerce, Creativity and Innovation Techniques, and UX Design at Xerox. Greg credits Toronto Vice Chair, Sayeh Beheshti, IDSA, and Syracuse Vice Chair, Ralf Schneider, IDSA for the success of these events.
Greg says that the chapter's biggest experiment was their remote holiday event in early December: an audience participation icebreaker. The event's speaker, Matt Weinstein of Playfair, guided activities and set up a half-dozen breakout sessions, where random groups of attendees met to discuss the various topics and questions. Attendees called the event fun, engaging, and unexpected, saying it was great way for students to network and for colleages to reconnect.
IDSA-Seattle (IDSA-SEA) entered 2020 with three monthly in-person happy hour events. These casual gatherings had an open door policy to all local professionals working in creative fields, from industrial and interaction designers to game desingers, architects, graphic designers, ilustrators, musicians, and more. When lockdowns due to the pandemic began in mid-March 2020, the chapter started to experiment with new ideas for virtual meetups.
Over the past several months, IDSA-SEA has hosted eight virtual events: A look at Inclusive Mobility with Teague; exploring Inclusive Outdoor Gear with Arcteryx; a Virtual Sketch jam with live sketching and critique; a focus on the works of maker Sophy Wong; a look at travel before, during and after COVID-19 with three designers in aviation; a presentation on Eastern design work and philosophy with Chen Min; and the kick-off of a co-sponsored product sketch competition with Tactile, followed by a design showcase with awards for the winning sketches.
In addition to these events, IDSA-SEA board member Thomas Deuster, IDSA initiated Office Hours: a reoccurring virtual space for University of Washington (UW) and Western Washington University (WWU) design students to meet with design professionals about their work and goals for the future. Plus, a recent new board member, Kate Shreffler, IDSA, is working with the other IDSA-SEA chapter officers to springboard her push for a Women in Design group in the Seattle area and beyond. This initiative comes with a list of related virtual talks and events for 2021.
IDSA-SEA Chair Anthony Garzzona, IDSA, says he's learned that virtual events make the execution of chapter officers' ideas "more achievable and faster to produce." Each chapter officer jumped in to help in organizing and producing these events, from the creation of visual assets and social media posts to speaker outreach and Zoom control. Moreover, Anthony says these remote gatherings have allowed IDSA-SEA to reach more people from across the country who normally would not have been able to attend in person. 
Other IDSA professional chapters to celebrate in 2020:
IDSA-Portland, Oregon (IDSA-PDX) held a large meet-and-greet on National ID Day with 50+ attendees. In the virtual realm, they've grown their Instagram account from three to nearly 600 followers this year, as they've consistently highlighted work by local designers.
IDSA-San Francisco (IDSA-SF) has a new chapter board and renewed energy to keep producing virtual events, as well as plans for blog posts and other forms of online content through 2021.
IDSA-Philadelphia (IDSA-PHL) became more active on social media and opened applications for a local mentorship program. With this program, IDSA-PHL plans to include mentor and mentee-exclusive networking events, digital design sprints, and a variety of other programming tailored to the Philadelphia design community.
IDSA-New York City (IDSA-NYC) and IDSA-Chicago (IDSA-CHI) are joining forces with ATL, ATX, CIN, DFW, and NL to host a multi-chapter Pantone Party on January 14, 2021. This virtual event is open to all with a pay-what-you-wish donation to go toward future IDSA chapter events—register HERE.