2012 SMA | Yasemin Uyar | Pratt Institute
WATCH VIDEO OF YASEMIN'S PRESENTATION.
Yasemin Uyar was born in Turkey to a left-brain parent (her father, the chemical engineer) and a right-brain parent (her mother, the architect). Her choice to pursue industrial design married the aptitudes of her two favorite people.
"I grew up wanting to be an engineer to follow in my father's footsteps," she remembered. "But I was also very interested in handcrafts as I saw my mother doing hobby projects with knitting and crocheting. I realized industrial design was the only profession where I could bring the left and right side of my brain together and make a living doing something I love."
As she studied design at Pratt Institute, Uyar began to sense a different kind of marriage taking shape: the union of her unique Turkish empathy and her natural gift for thoughtful manipulation of form. One project, where she and her classmates were tasked with translating a dynamic concept into a static object, neatly symbolizes this pairing.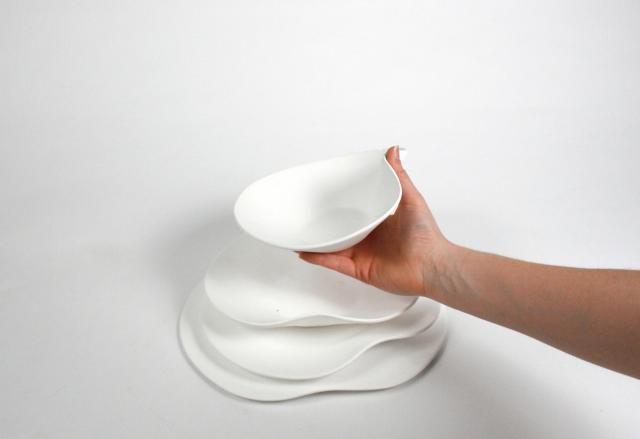 Uyar designed the Crescendo Dinnerware Set to be capable of being transformed from subtle and formal to gregarious and playful depending on how the pieces are arranged. "In a successful dinner party, the presentation of the food is as important as its taste," noted Uyar. "The Crescendo Dinnerware Set gives the user the freedom to arrange them according to the mood they want to set on the table."
That freedom is especially important in the context of Turkish custom as Turks take great pride in their tradition of hospitality where guests are honored in the ways most familiar and most comfortable to the visitor.
While Uyar's cultural intuition helped inform her design, the resulting product has universal applications—it's a dinnerware set that empowers any host in any country. "Design is about understanding your user and giving them what they want, not only through function, but also emotionally," she said.
The project also represented a milestone for Uyar's development as a maker of things. "I finally felt comfortable combining digital and manual techniques to translate an abstract sketch into a fully developed product," she offered.  
Uyar built on that understanding of product development during an internship with Specific Objects when she collaborated with Katrin Mueller Russo and Rhett Russo on a ceramic stool. "I helped them build a full scale foam model, which was later used to create the mold for the actual stool," she reported. "I learned a lot from their aesthetic awareness and attention to details."
Uyar's own attention to detail helped earn her special distinction earlier this year as a winner of the Rowena Prize, an honor reserved for Pratt students who understand and exercise the elements of abstract design were developed by Rowena Reed Kostellow.
In the last quarter of her studies at Pratt Institute, Uyar has developed a passion for design research. "I like observing people and finding clues in the things they don't say but do," she said.
To see more of Yasemin Uyar's work, visit yaseminuyardesign.com.