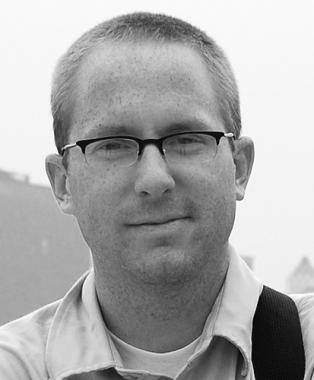 2009 Mideast District Student Merit Award Winner
Dan Rowe arrived a bit late to the industrial design party, but somehow managed to get here right on time.
Rowe had completed a graduate degree in educational technology and curriculum design and was working as an instructional designer before discovering industrial design and choosing a career change. While practicing "the other ID," he accumulated a set of skills and experiences that would compliment his move.
  "Instructional design is the process of discovering learning gaps and designing learning materials to address those learning gaps," Rowe noted. "My background in instructional design has greatly informed the way I think about product design. Whenever I start a new project, I write down a series of clear problem statements. As I work through the design process, I constantly return to those statements to ensure that my designs adequately and creatively address the problems."
He added, "As an instructional designer, I also learned and practices a great deal of quantitative and qualitative research methods, which I have applied to product design to discover and define important problems."
The winner of the 2009 Mideast District Student Merit Award—representing the Cleveland Institute of Art (CIA)—applied those methods to a lifestyle product for people with Type II diabetes. The disease—whose symptoms seem harmless but can become threatening—is reaching epidemic proportions around the world.
"To learn about Type II diabetes, I conducted interviews and observations with nurses, doctors, dietitians and nutritionists (specializing in diabetes), podiatrists, and, of course, people with diabetes," Rowe recounted. "I also went on rounds with doctors and nurses and observed their interactions with diabetes patients."
After concluding that there are no products to support Type II diabetics who struggle to make and sustain the dietary and exercise changes necessary to manage their blood sugar and prevent complications, Rowe began designing a solution.
  "Activate is a wrist-mounted device for people who are endeavoring to make significant lifestyle changes due to a Type II diabetes diagnosis (or the existence of diabetes risk factors)," he offered. "Activate uses a sensitive and precise accelerometer to tally all activity throughout the day. The user's daily activity and exercise levels are displayed in an attractive pattern using an E-ink screen. Users can choose a pattern that fits their taste and style. In addition, activate contains a small vibrating motor that alerts and reminds users of regular mealtimes and glucose monitoring."
While Rowe deeply connects his current ID work to his previous ID training, it is not the only source of inspiration he draws from. The Cleveland Institute of Art graduate cites a series of industrial design internships as other keys to his design development.
"I worked at Smartshape Design in Cleveland, Continuum in Boston and IDEO in Chicago," he said. "Those internships were eye-opening experiences that helped me learn how to better apply the things that I was learning at CIA. I am so thankful to all the designers I worked with who took me under their wings and patiently taught me about design."
Rowe recently started an apprenticeship with Ziba Design and is living in Portland, OR. He can be reached at dantrowe@gmail.com.